By Our Reporter
Lawyer, Omega Sambakunsi, who goes by a twitter handle @ViceroyWapenga on twitter and has barely practiced law for a year now working with Blantyre Legal law firm in Blantyre has been embroiled in a cumbersome social media case that started with him threatening a Chancellor College student by the name of James Lihoma with a lawsuit that he did not pay back Doris Malazi Malikita a debt of MK6000 he alleged she was owed.
It is said that the story started on Twitter when Malikita who goes by the twitter handle @dohris01 was unhappy that James was getting famous. Following this she decided to use her boyfriend who is a lawyer, Sambakunsi to contact Lihoma of the said debt she claimed was owed to her as she had learnt it to Lihoma through his ex-girlfriend in 2018.
Mr Omega Sambakunsi posted on Jame's timeline on twitter who goes by the twitter handle @JamieLihoma asking him if he wanted them to discuss the issue on twitter or privately. The conversation went to Whatsapp where upon James's refusal to pay the debt he claimed he had paid back to the ex-girlfriend early last year, lawyer Sambakunsi threatened him that he would use his friend to sue.
However, three weeks later, the story turned around as James was wrongly implicated in a rape accusation on twitter which had been posted by an anonymous account from a twitter user whose handle was not revealed. In his response to the same Lihoma said that although anonymous he was sure that it was a personal issue from Malikita and the lawyer that had led to Malikita accusing him of rape. In the response he also said that he would not discuss the ages of lawyer Sambakunsi and Malikita. The lawyer later claimed that James was defaming him by insinuating that he was dating a minor. He followed this up with filing a complaint at Blantyre police through sub-inspector Mpasu.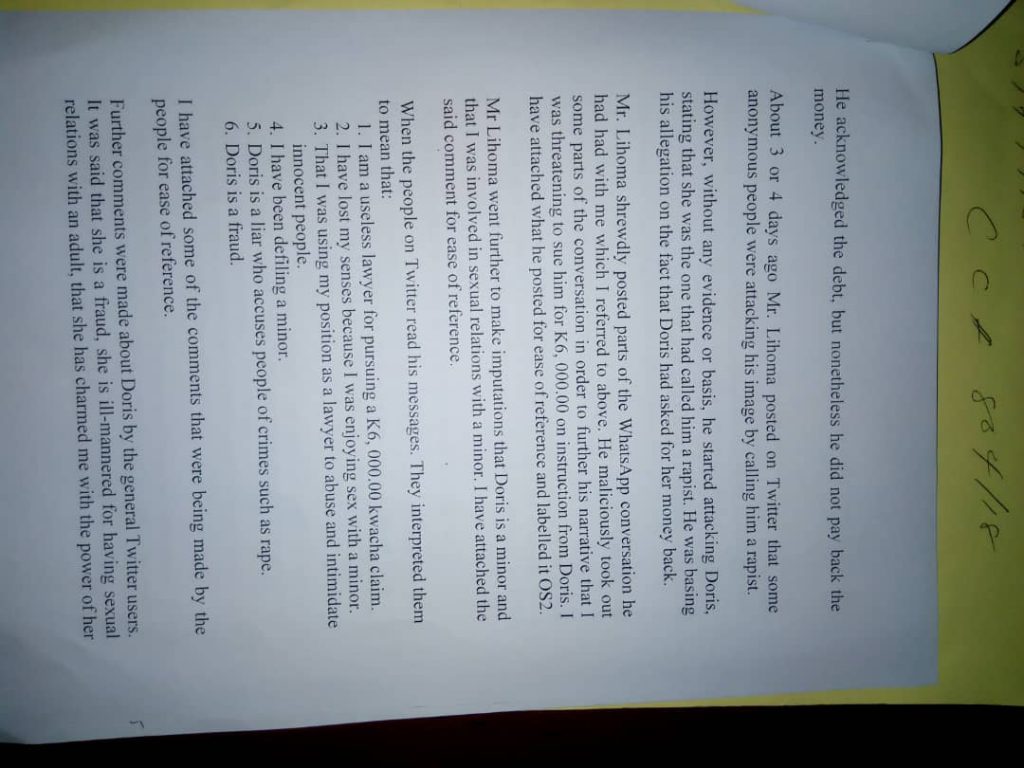 Sub inspector Mpasu immediately summoned Lihoma to Blantyre police where he went on 5th September. Upon noticing the nature of the complaint in which lawyer Sambakunsi claimed Lihoma's tweet had insinuated and led to a rumor he was dating a minor, it was resolved that Lihoma would apologize publicly on Twitter to Mr Sambakunsi. No arrests or police statements were taken.
Surprisingly, when Lihoma had issued out the apology, Sambakunsi denied it in public and threatened to proceed with a lawsuit. James Lihoma was called by Blantyre magistrate on 9th September, 2019 to be served with a libel charge sheet in which he was summoned to appear in court today, 11th September. The charge among others was suing Mr Lihoma for defamation to Mr Sambakunsi for insinuating he was dating a minor and to Miss Doris Malikita for falsely accusing her of accusing him of rape.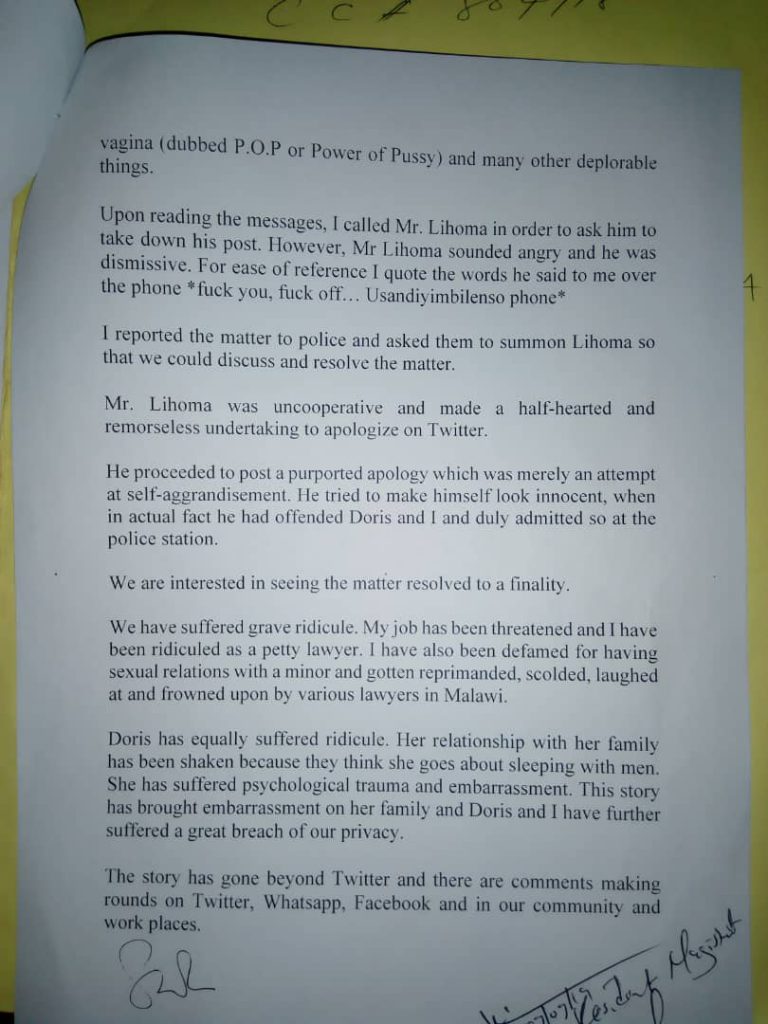 The court did not seat today as the magistrates were not available and new date will be set. Clarkes Attorneys, a Lilongwe law firm of human rights defenders run by partners Khwima Mchizi and Geoffrey Taombe has since taken up the case to defend James pro bono.
In an interesting twist of events, we have learnt that it is actually true that Doris Malikita through her twitter handle @dohris01 had falsely accused Lihoma of rape. This revelation was made today by the anonymous twitter account she had posted this through which revealed after seeing that the matter had escalated. It has also been revealed that Malikita who is a daughter of a judge claimed in messages to people on twitter that her mother was the one behind the lawsuit using her position as a judge. It is unclear at the moment how the case will proceed and if indeed Lihoma's lawyers will sue Doris for defamation.
(Visited 28 times, 1 visits today)
Subscribe to our Youtube Channel :
Follow Us on Instagram