Malawi Government have through Finance Minister Joseph Mwanamvekha on Monday presented Malawi's K1.7 trillion 2019/20 budget which he touted as having been prepared with the objective of reducing domestic borrowing while entrenching macroeconomic stability and fostering higher, more resilient and inclusive growth.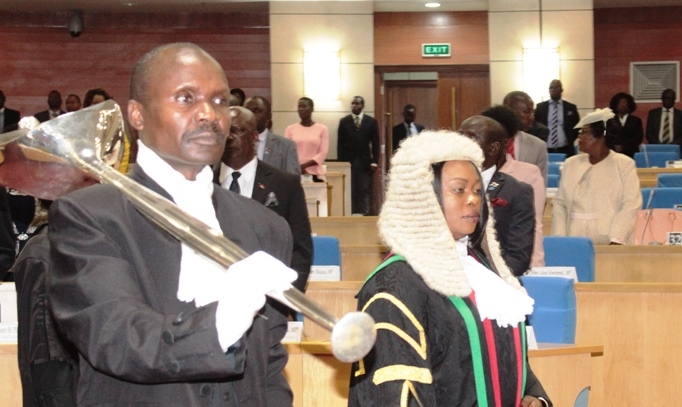 In 2018-19 fiscal year, government made a budget of K1.4 Trillion with huge allocations witnessed over and not comfort with actual development on the ground.
According to the Minister of Finance Joseph Mwanamveka, out of total planned expenditure; K1.2 Trillion which is 20.6 percent of GDP is under recurrent expenditure while K4.9 Billion which represents 7 percent of GDP is allocated for different developmental activities.
The Minister has said government expects to solicit domestic revenues of K1.4 Trillion and K150 Billion from the grants provided by donor partners.
Mwanamveka has however told the nation that his government will continue borrowing from local financial institutions but shall gradually reduce until 2023 as they project it to be at 20.1 percent.
The education sector has got more funds with a budget of K172.8 Billion that represents 21.5 percent increase from previous year's budget of K142.2 Billion. In agriculture, K167 Billion has been allocated to the sector with 11.3 percent increase from previous year's budget of K150 Billion.
Even when the health sector is coming on third place, it is the most important area that would have been allocated more funds since there more challenges including drugs scarcity.
The health sector has been allocated K101 Billion with an increase of 12.6 from the 2018/19 budget which got K89.9 Billion.
On controversial note, government has also allocated K35.5 Billion for Farm Input Subsidy Program-FISP where there shall be 900 000 beneficiaries who would pay a sum of K15 000 per coupon.
This comes as government have been criticized in the past for failing to deliver on FISP as corruption has crippled it activities. It has been reported that FISP does not really go to intended beneficiaries.
On the other hand, government is also allocating K10 Billion for the purchase of maize. It is said that the maize shall be distributed to those affected by natural disasters including floods and persistent dry spells.
In 2017, government also allocated K7 Billion for maize purchase but the procurement ended to be dubious as it is alleged that former Minister of Agriculture George Chaponda misappropriated the funds for other personal purposes.
(Visited 6 times, 1 visits today)
Subscribe to our Youtube Channel :