By Orchestra Kamanga
One of the leading group of companies, Malida Enterprises which has Elegant Traders and Malida Tyre Traders has promised and assured its customers that they will expand their market base through promotion to satisfy their customers.
Speaking in an interview, the company's General Manager Mohamed Furkan Malida said the company has created social media as a platform to inform the customers about their products and also do advertising in the newspapers and promotions through give away prices.
"I want to assure and promise our customers that Malida Enterprises will provide quality products to match customer's standards at affordable rate," he said.
Malida further said the company provides best and quality goods and cheapest prices at most convenient.
"As Malida Enterprises we appreciate the overwhelming response and support from our customers. We do have variety of products that customers can choose which to buy," he said.
The company import their products from Asia, UK, South Africa so that customers can have wide range to buy.
Malida Enterprises which is located along Grevillea Avenue road by Yiannakis roundabout has Malida Tyre Traders and Elegant Homeware.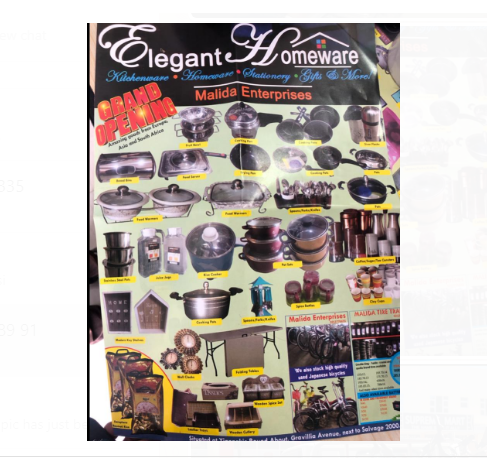 Elegant Homeware stocks wide ranging from beautiful homeware, kitchenware, gifts and stationary while Malida Tyre traders have stocks of affordable double tyres, batteries and motor oil plus wide range of bicycles.
The company has its headquarters in the heart of Limbe and shortly it will expand to Blantyre and Lilongwe.
(Visited 29 times, 1 visits today)
Subscribe to our Youtube Channel :
Follow our Instagram