Two monkeys in Malaysia are living together just like a married human couple. Male Jk and female Shaki go to restaurants and sleep in a bed just like humans. They live in Kuala Lumpur with their owner Jamil Ismail, an animal rescuer, in Kuala Lumpur.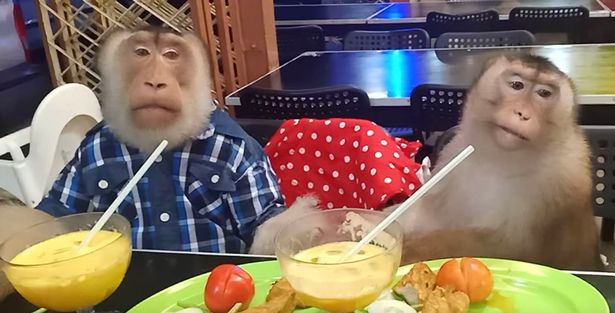 Jamil said that he rescued the monkeys from the life of a cage. He saw JK at a nursery but could not buy him as he couldn't afford it. When the nursery went bankrupt, the monkey was released. Jamil found JK sitting in the middle of a road and took him home. "He was about one year old at the time," Jamil said.
Soon after, he set out on a search to find a wife for JK. He bought Shaki after getting in touch with his former teacher in Perak.
Both the monkeys are about the same age and have stayed with Jamil for nine years.
It wasn't easy for Jamil to make the animals adjust to life as a married couple. They took about four years to get used to the life of a modern human household.
"Those were the years that they really gave me a headache. It's like children, yes, but 10 times worse. My whole house was destroyed. Everything in my house is upside down, everything in the fridge they will take out, I used to have an aquarium and the fish would end up on the floor," Jamil recalled.
For those who criticised Jamil for dressing up the monkeys like humans, he said that he does it so that people respect them more. "When people are angry and curse at someone else, they always call them monkey or pig. Why must you say that? So I dress (JK and Shaki) up because I don't want people to see them as the lowest class beings in the world," he said.
Jamil has even taught them to surf the internet.
In August, a video of a monkey washing clothes in a 'desi style' like a pro had gone viral. The monkey was seen beating the clothes several times as voices could be heard cheering for the animal.
Subscribe to our Youtube Channel: