Dreams do come true, just believe…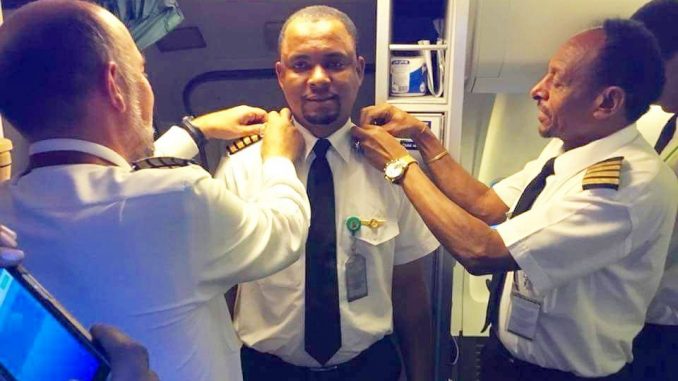 A Nigerian man who worked as an airplane cleaner for 24 years has finally fulfilled his dreams of becoming a pilot.
The man Muhammed Abubakar who has been dreaming of being a pilot had to wait for 24 years before he could live to his dreams.
Abubakar started working as an airplane cleaner at Kabor Air after being rejected at Kaduna Polytechnic where his application to enroll at the university could not go through following late submission.
Considering that he could not stay unemployed for so long he opted for a casual job hence working as an aircraft cleaner.
Despite earning low salary, bout N200 per day ($0.5), Abubakar kept his dreams alive as he persistently worked hard and got another job as a ground staff at the airline in Maiduguri, before applying for a job as crew member at Kabor Air of which he was given the job due to his solid performance.
He worked there for 8 years, for a monthly salary of N17,000, and then he moved to Aero Contractors as a flight attendant.
Soon his sharp mind and his previous experience paid off. He was noticed by the Deputy Managing Director.
His salary was now N170,000. He couldn't believe it. In fact, when he received his first paycheck, he tried to return the money.
Instead of thoughtlessly spending his salary, Abubakar decided to save it. He went to the managing director and told him about his dream of becoming a pilot. The director loved the idea and supported Muhammed. Soon he was able to pay for his private pilot license in Canada. He successfully finished his training.
When Abubakar returned to Nigeria he found out that he also needs a commercial pilot license but this time he didn't have enough money. This didn't crush his spirit. He asked the Deputy Managing Director for help, and because of his loyalty, the company assisted him. They sent him back to Canada for this license and sponsored his training.
After eight years of hard work in Aero Contractors, Muhammed Abubakar finally got a job as a captain at Azman Air.
His journey wasn't easy but his determination and his faith helped him become everything he's ever dreamed of. Muhammed's story is a pure example of how, when you work hard and you never lose hope, you can achieve everything you want in life. After all, dreams don't work unless you do.
(Visited 8 times, 1 visits today)
Subscribe to our Youtube Channel :
Follow our Instagram