A 63-year-old granny from the south of Joburg in South Africa has made history as possibly the first person in the country to marry themselves.
Rita Woodall-Terblanche a widow from Vanderbijlpark had a small ceremony this past Saturday with seven guests.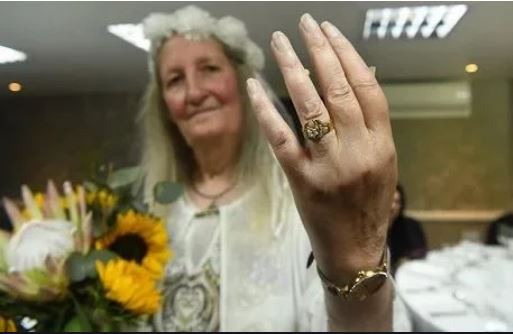 According to the Citizen, sologamy, defined as a marriage by a person to him or herself, is steadily gaining traction worldwide.
'ÄúI hereby promise that I, Rita Woodall-Terblanche, will love myself, take care of myself, care about myself, respect and, above all else, be true to myself, to the best of my ability. I promise this in the name of the Almighty and all present witnesses'ÄĚ, were Rita'Äôs vows to herself.
Rita's second husband died three years ago and was married to the first husband for 37 years, according to Daily Sun.
Rita is determined to use her ring to chase away men who are after her money.
She told the paper that, 'ÄúNo one can love you as much as you love yourself. You can also never trust anyone like you trust yourself.'ÄĚ
The paper adds that Rita's wedding to herself is not recognised legally, and is strictly ceremonial. It is not registered with the department of home affairs.
(Visited 2 times, 1 visits today)
Subscribe to our Youtube Channel :
Follow our Instagram