Two security guards were wounded on Monday evening when a number of men attacked them during an alleged cash-in-transit heist in the north of Joburg in South Africa.
The incident happened on Malibongwe Drive, near the R114, just on the outskirts of Cosmo City.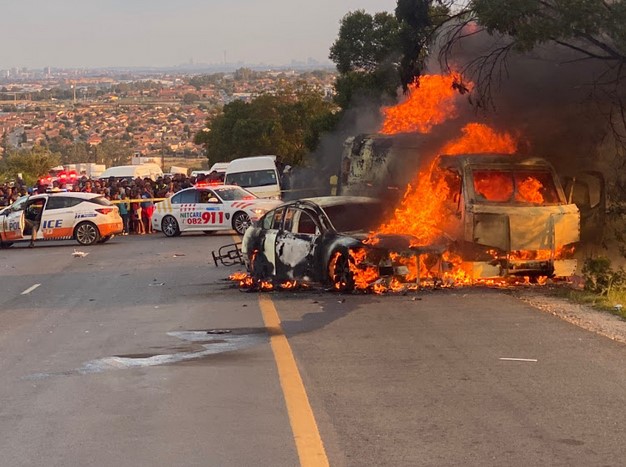 A number of unknown suspects are believed to have approached the cash van and blew its doors off.
They are also said to have started a fire which engulfed both the van and a light motor vehicle next to it.
ER24's Ross Campbell said the Lanseria Fire Department was already tackling the blaze when they and Cosmo City Fire arrived on the scene at 18:45.
Cash transit heist led vehicles in flames causing heavy Congestion on Malibongwe Dr after Cosmo city business park.
"The driver and guard in the rear of the van are alleged to have been assaulted by the suspects and have suffered minor injuries. They were treated on scene before being transported to a private hospital in Fourways.
"The South African Police Services were also on the scene for further investigations," Campbell said.
IOL called the national police's Colonel Brenda Muridili to get more information on the story and whether any money was taken. However, she did not have information at the time of publication.
Source:IOL
(Visited 12 times, 1 visits today)
Subscribe to our Youtube Channel :
Follow Us on Instagram