By Orchestra Kamanga and Robert Kumwenda
Azam TV Project Manager Syed M Kadarsha says the firm will keep entertaining Malawi with more entertainment at affordable prices.
Speaking on Tuesday during a review of February plan, Kadarsha said they want Malawians to be entertained throughout the year and that they will continue adding more channels with high quality pictures.
With MK.1, 980 Malawians do enjoy over 65+ channels from Music, Sports, and Movies to Documentaries, subscribers should be assured of less pay and more channels.
'ÄúWe do screening Chichewa Dubbed series every Monday to Friday at 08:00Pm to 09:00Pm and the same is repeated next day morning from 09:00am to 10:00 am and the week Omnibus will be telecasting on Sunday from 09:00am to 02:00pm,'ÄĚ Kadarsha said.
He also said they do screening Chichewa Dubbed Movies on Azam Two every Sunday 03:00pm and 09:00 pm and the same be repeated on Thursdays and Fridays at 10:00am.
He further added that Azam TV subscription rates for Azam Pure for one Month is K1, 980 with 65+ channels while for 3 months is K5,000 from K5,940 saving MK.940 and K9,000 from K11,880 for 6 months saving K 2,880 and K15,000 from K23,000 for 12 months saving K 8,000.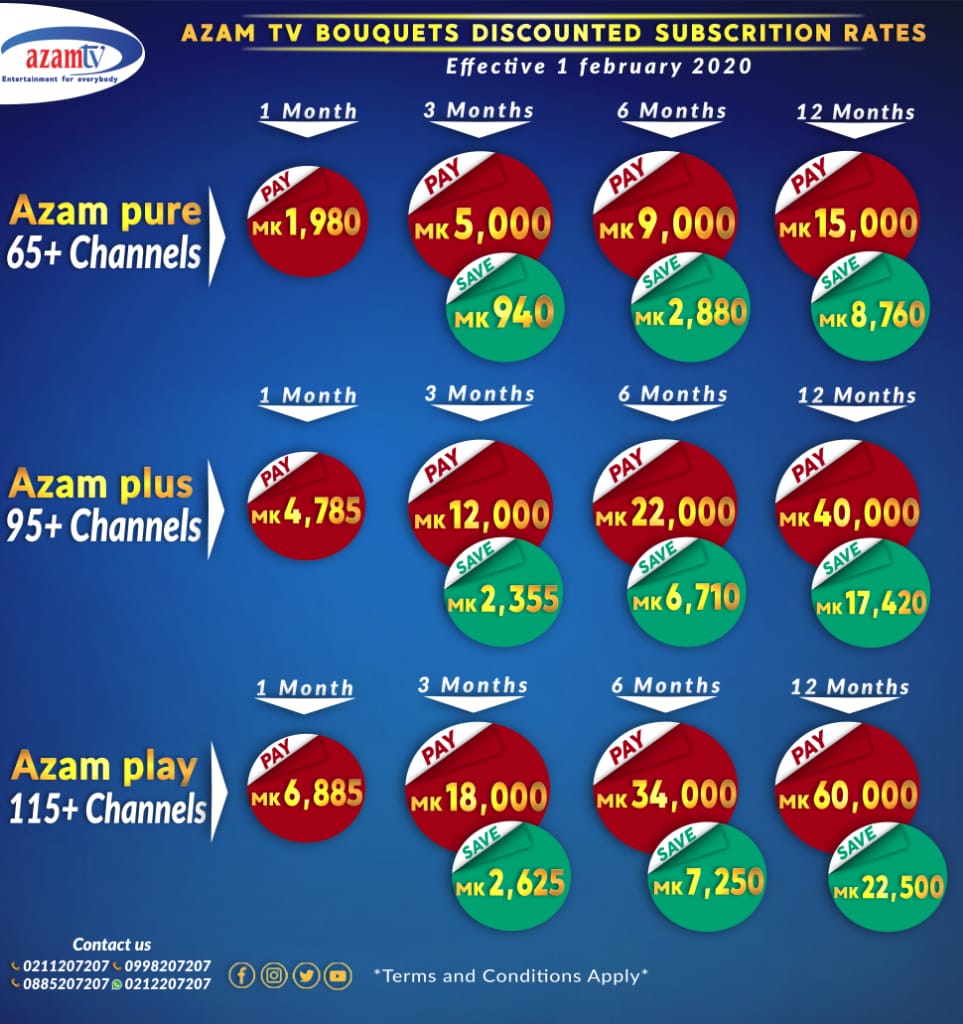 'ÄúFull kit is K37, 000 while decoder is K18, 000 with one month Azam play subscription to entertain everybody,'ÄĚ he said.
Kadarsha said Azam Plus subscription rates with 95 + Channels for one month is K4,785 while for 3 months is K12,000 from K14,355 saving  K 2,355 and for 6 months is K22,000 from K28,710 saving K 6,710 while for 12 months is K40,00 from 57, 420 saving 17,420
"Azam TV rates with 115+ channels for one month is K6, 885 while for 3 months K18, 000 from K20,625 saving K 2,625 and for 6 months the subscription rates is K34, 000 from K41, 250 saving K 7,250 and for 12 months is K60, 000 from K82, 500 saving K 22,500
 
(Visited 822 times, 1 visits today)
Subscribe to our Youtube Channel :
Follow Us on Instagram