SOUTH AFRICA – A well known South African Anglican Gay Priest, which some people have been calling a Pastor has officially wedded with his long time Kenyan partner, Pastor Paul Mwaura, in a joyous wedding attended by an exuberant audience of attendees.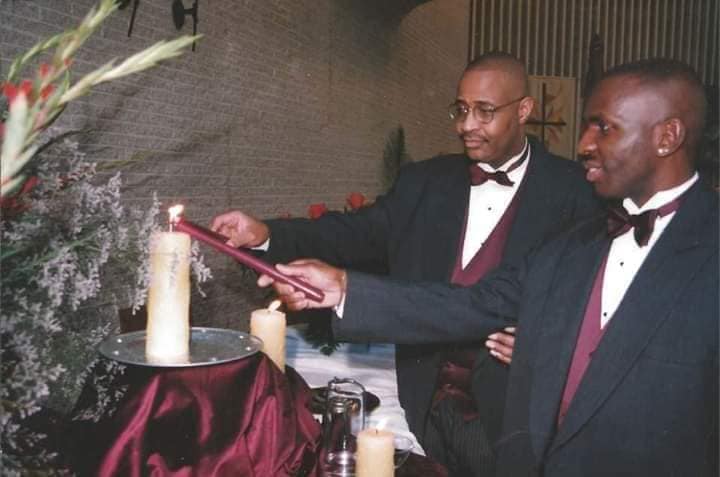 Reverend John Maierepi said "I do" to his longtime male fiance, now-husband, Pastor Paul Mwaura, amid cheers from their supporters and LGBT colleagues.
When asked why they "choose" to be gay, the preachers responded that sexual orientation is inborn, unchosen and unchangeable. This left the audience stranded thinking how would the couple have sex and produce children while preaching and teaching the Gospel of Christ. As gay marriages are heavily condemned in many Christian circles and many are questioning if this is biblical since Christianity is directed by the bible.
This is not the first African Gay couple to get married in Africa but it is surely the first of its kind between Religious leaders.
With the enactment of the Civil Unions Bill in 2006, South Africa became the fifth country in the world, and the first in Africa, to legalize same-sex marriage. While supporters of the bill hailed the decision as signaling the end of discrimination against homosexual couples, critics slammed it as undermining traditional marriage between a man and woman.
While openly gay males in Africa face strong social, cultural, and legal discrimination. Generally, these men are treated as social outcasts and their sexuality is condemned amongst their families, schools, and religious organizations. In most sub-Saharan countries it is still believed that people are born heterosexual and sexual minorities are social deviants who should be prosecuted.
Source : Izso News
(Visited 191 times, 1 visits today)
Subscribe to our Youtube Channel :
Follow Us on Instagram