In a twist of events, four Chancellor College (CHANCO) students have withdrawn an application seeking court injunction against President Professor Arthur Peter Mutharika to close down the institution amid coronavirus scare.
The institution was closed indefinitely Monday following a government directive to close all schools as a preventive means to combat possible spread of coronavirus in the country.
The development did not please some students at Chancellor College namely; Young Soko, Lonjezo Noel Banda, Steven Mponda and Precious Kalulu who dragged the government to court.
The students argued that the indefinite closure of the institution violates the students' right to education.
The document showed President Peter Mutharika as the first respondent, Council of University of Malawi as the second respondent and Attorney General Kalekeni Kaphale as the third respondent.
But in a letter from the High Court dated March 26, 2020, the four students have dropped the case unconditionally.
"Take notice that the applicants in this matter have discontinued the application for interlocutory injunction to restrain the 1st and 2nd Respondents from closing down Chancellor College, a constituent college of the University of Malawi against all the three respondents," reads in part the letter.
Below is the notice;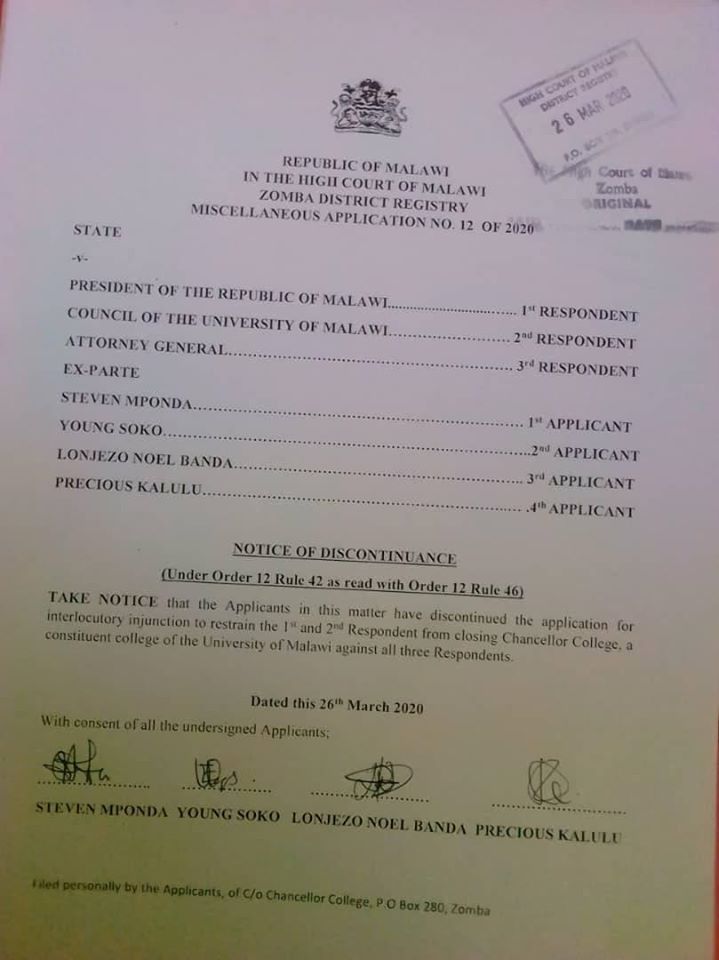 Subscribe to our Channel on Youtube: