State Vice President Dr. Saulos Chilima who is also President of the United Transformation Movement (UTM) has taken the campaign trail to Nkhotakota and Salima ahead of fresh Presidential polls scheduled to July 2, 2020.
Chilima, a runningmate of Tonse Alliance which will be headed by Dr. Lazarus Chakwera will hold whistle stop tours dubbed as Imbizo starting from Dwangwa on Thursday from 9:30am, according to the programme seen by this publication.
According to the programme posted at official facebook page of UTM Secretary General Patricia Kaliati, Chilima will first stop at Chigunda, Dwangwa Trading Centre Liwalazi and Mpondagaga before proceeding to Nkhotakota Boma.
Chilima will conclude his Imbizos at Kalimanjira, Mwansmbo Headqurtarters and Benga area.
On Friday, Chilima will be in the Lakeshore district of Salima where he will conduct another Imbizo's to woo Malawians to vote for Chakwera in the fresh Presidential polls.
Chilima will conclude his tour on Saturday with a main campaign rally at Mtakataka Trading Centre in Salima.
Below is the programme;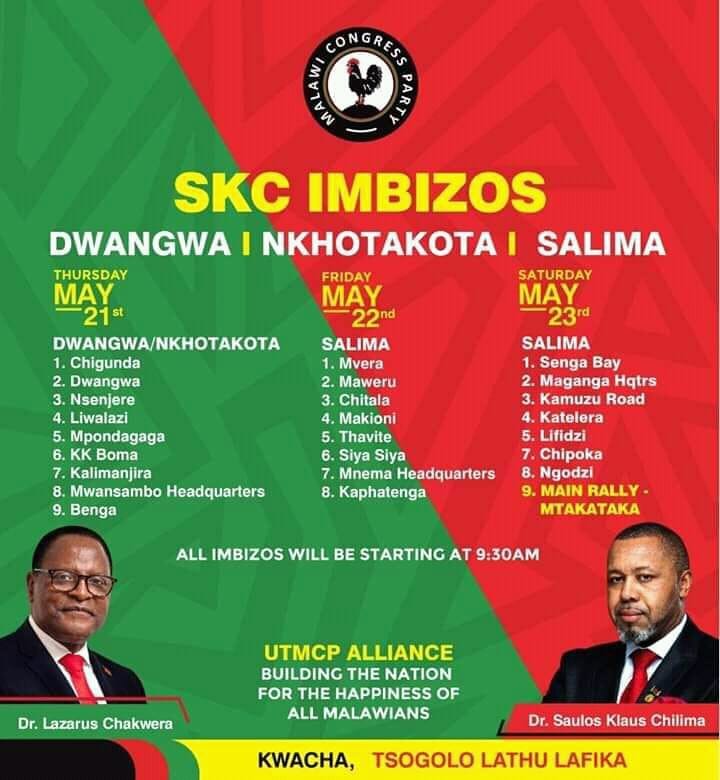 (Visited 181 times, 1 visits today)
Subscribe to our Youtube Channel :