Prophet Seer1 whose real name is Andrew Ejimadu is Nigerian pastor who is the founder of Christ Freedom Ministries (CFM) believed to be one of Limpopo's fastest growing church.
Prophet Seer1 is from Imoh State in Nigeria.
He is 42 years old as of 2020.
In 2018, the self-acclaimed prophet lured hundreds of South African churchgoers to his church when he reportedly vomited money during miracle hour while members of his church fought to pick monies that were coming out from his mouth.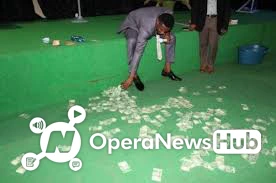 Prophet Seer1 was also arrested in South Africa in November 2019 for allegedly duping a Zimbabwean woman identified as Sister Memory of R10000.
According to the woman, Prophet Seer1 pretended to perform a miracle to change her R10000 to R100000 but when she got home she discovered she had been given old newspapers.
This is what Sister Memory had the following to say about Seer1's fake miracle money.
"I counted the money and everything came to the sum R100 000 then I took the money and left his house.I was excited, but I got the shock of my life when I reached home and opened my bag, all the money was again turned to papers.
Mwebantu.com reported that this is not the first time Prophet Seer 1 has promised to perform a questionable miracle in South Africa and other African countries.
Now, pastors might want to be careful about the kinds of miracles they perform these days to avoid being arrested.
(Visited 1,416 times, 1 visits today)
Subscribe to our Youtube Channel :
Follow our Instagram