Human Right activist Seodi White who once served as Chief Director of Public Sector Reforms in the Office of the President and Cabinet, Seodi White has been deployed to Neno to work as District Commissioner.
The redeployment of White has attracted mixed reactions with many describing it as a fight back considering the fact that she attacked Dr. Saulos Chilima during the reign of former President Peter Mutharika.
It is said that White described Chilima as 'Mr. know it all'.
Chilima is now the main man championing Public Sector Reforms under Tonse Alliance government led by Dr. Lazarus Chakwera.
Effort to talk to White proved futile..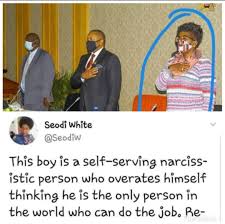 (Visited 419 times, 1 visits today)