Howbeit, there is time for everything in this life. Time to smile and time to weep. Time to sleep and time to wake. Time to live and time to die.
Recall that Ruth Cox Nyakairu Kugonza Amoti, a 62-year old Tooran Ugandan princess, wedded the love of her life in October, 2020 which stirred a lot of reactions from people.
Her new husband who is a 25-year old guy and whose name is Larry Richard Abaala took her to the altar to make marriage vows. The union arguably sparked a lot of controversial reactions on the internet and even within her royal family members as to how and why she would decide to marry a guy young enough to be her son.
However, some were of the opinion that Larry didn't love her but was only after her wealth and nothing else. They went further to say that Larry used charms on her so that he can inherit her when she dies since she's from a royal family but all their advices only fell on her deaf ears as she continued with the marriage ceremony which was colorfully successful
.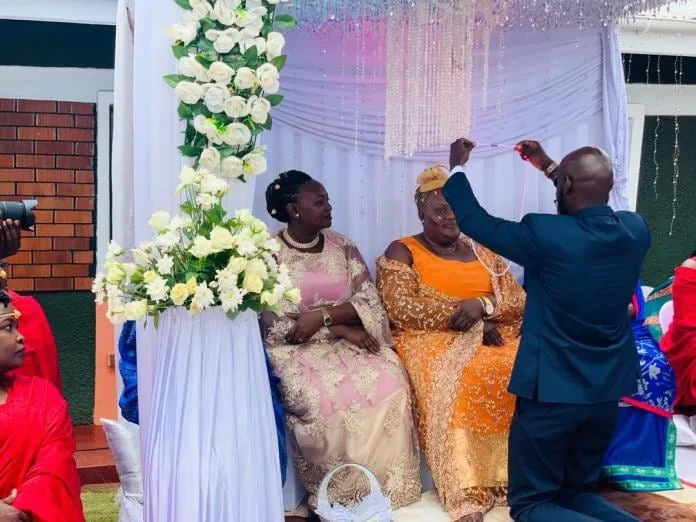 According to a verified report, they held their wedding ceremony at Harukoto which is close to the Kingdom Palace situated at Fort Portal City.
It was later gathered that Larry was not her first love. She left John Kabango who was her first husband after a divorce. She had 4 children with him and the reason why she left him wasn't disclosed but everyone felt it was because she had an unconditional love for her 25-year old lover.
It is almost one month now since the newly wedded couple wedded and nothing was heard from them not until when the news of Ruth's death spread like a wildfire.
Her death was first announced by one of her close friends, Margaret Muhanga and her cousin, Andrew Nwenda. They both took to their Twitter handles at different times to announce the death of Ruth Coz Amooti after she was confirmed dead after struggling with her breathing, imploring people to be very careful when handling their health issues.
Report has it that Ruth Cox Amooti died to Covid-19 after contracting the virus some weeks ago. When she started showing some symptoms, she was reportedly admitted to an hospital. The 62-year old Ugandan woman couldn't survive it any longer as she finally gave up the ghost (died) at the Intensive Care Unit (ICU) in Mulago Referral Hospital on Sunday.
If you have the opportunity to give one advice to the 25-year old guy, what will you say?
Leave your comment below. Kindly follow and share this post to your loved ones too.
(Visited 1,345 times, 1 visits today)
Subscribe to our Youtube Channel :
Follow Us on Instagram