Tension continue to rise in Uganda as the day for the general elections in the country draws nearer.
On Thursday, January 14, 2021 Ugandans will head to the polls to elect a President and members of the Parliament.
Incumbent President Yoweri Museveni, who has ruled the country since 1986, is seeking re-election once more.
Museveni is Africa's third-longest serving head of state, since seizing power as the rebel leader of the National Resistance Army in 1986.
However, his main challenger, Bobi Wine, a singer-turned-lawmaker whose real name is Robert Kyagulanyi, is fighting hard to make sure Museveni doesn't return as President.
Series of attacks have also been unleashed on Bobi Wine, his team and his family. On Tuesday, he tweeted that the army had raided his home and arrested a campaign surrogate.
On Wednesday morning,January 13, 2021 he said his private security personnel had been taken away.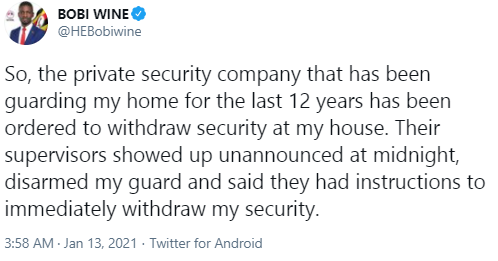 However, to the shock of many, Bobi Wine's wife, Barbara Kyagulanyi was seen in a viral video scantily dressed as she was being taken away by security personnel.
In the disturbing video, Barbara was protesting the way she was being treated before she was pushed to the ground and stripped in the presence of her son who kept shouting, "Leave my mummy".
(Visited 2,180 times, 1 visits today)