As tributes are continuing pouring in for John Magufuli, Tanzania's President, Gospel Kazako and Timothy Mtambo have also sent in their eulogies to the Tanzanian people following their loss.
Writing on his official Facebook page, Malawi's Minister of information Kazako said he had the privilege to meet Magufuli whom he described as a great Pan Africanist.
"I had the privilege to meet and talk to a great Pan Africanist President John Pombe Magufuli during his inauguration," Kazako said.
He further added that Magufuli had Malawi at his heart as he tried to maintain the god relationship the two countries had.
On the hand Mtambo, who is the minister of Civic Education and National Unity said Magufuli has left a legacy which will be forever remembered.
"Our hearts are filled with sorrow as we hear the passing on of Tanzania's president John Magufuli. He was an African Giant and he will always be remembered," Mtambo, the Commander in Chief of Citizen for Transformation, People Power Movement, said.
He added; "Our thoughts and prayers are with his family, Tanzania and whole of Africa for such a great loss."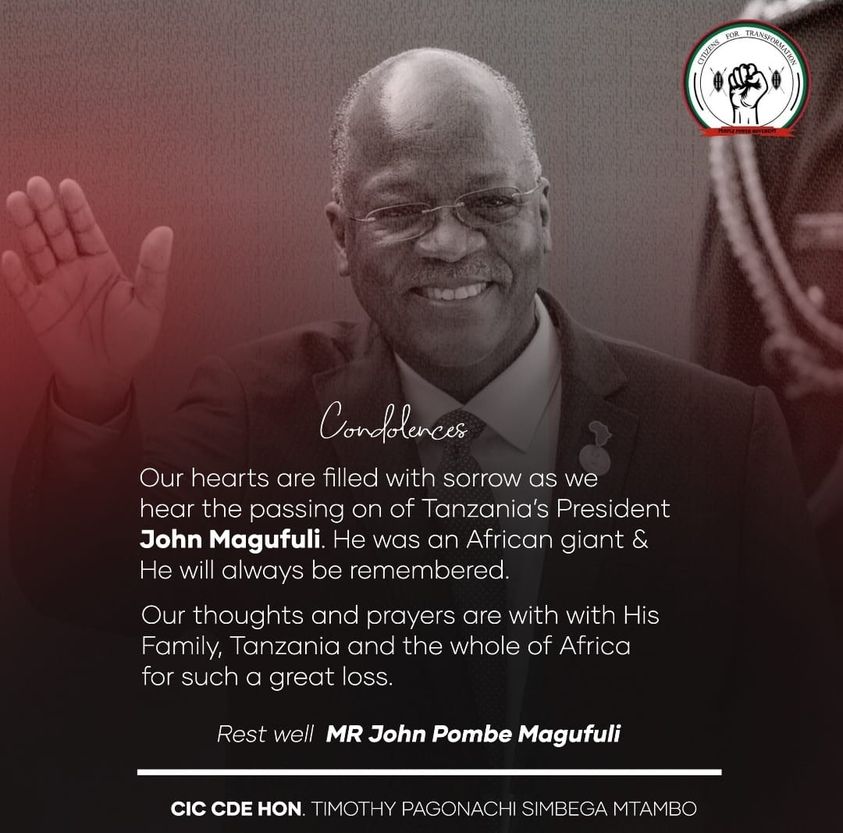 Magufuli has died from heart diseases according to Tanzania's vice president during a national address last night.
Magufuli died at 61 in his second term as the president of Tanzania.
(Visited 140 times, 1 visits today)