Alliance for Democracy (AFORD) President Enoch Chihana on Tuesday attended the Inauguration of Hakainde Hichilema at National Heroes Stadium in the capital Lusaka.
The trip to Zambia came barely weeks after his release from police cell.
Chihana was arrested together with former Minister of Energy Newton Kambala and Presidential Adviser Chris Chaima Banda on allegations that the three attempted to interfere with the awarding of contract at NOCMA on fuel importation.
They were released later after being ordered to pay a bail-bond and surrender all their travelling documents.
But many Malawians were surprised to hear that Chihana was among the delegates that welcomed Chakwera at the airport in Zambia, considering his recent arrest.
Dickson Muzunga wrote: "Kikikiiii!! Chihana, the suspected corruption guy among dignitaries receiving Chakwela!? What a shame!!!! Hahahaha!! Malawi is a joke of a nation, and we claim we will end corruption in Malawi chonchi!?"
Concurring with Muzunga's remarks Thokozani Banda wrote: "Enock Chihana is there too?☹️, He is a suspect, he was not supposed to be there as Malawi deligates, he can influence investigations by the ACB."
Another concerned citizen identified as Emmanuel Frayx Seleman wrote: "Ma arrest aja anali otiphimba m'maso eti ? Popeza anthu analankhula kwambiri eti? We are watching from a distance.."
But faceofmalawi investigations have revealed that the court ordered Chihana's passport release and he is expected to hand it over back to court today.
Below is the court order;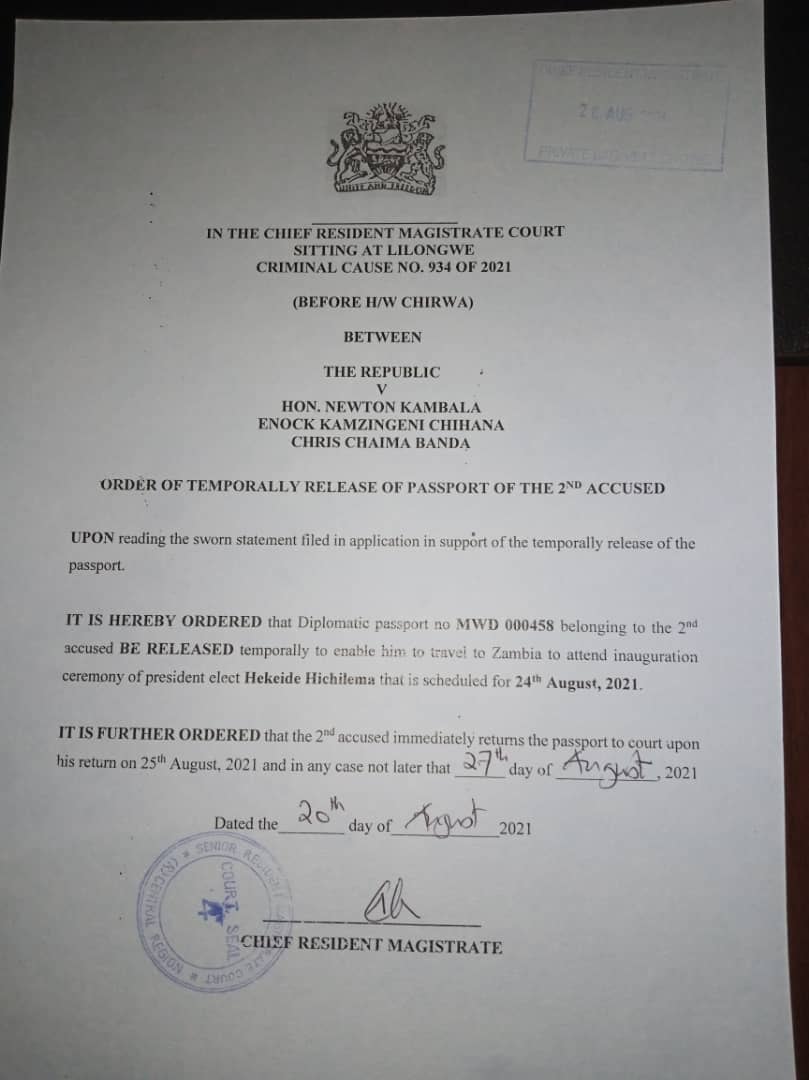 Subscribe to our Youtube Channel: