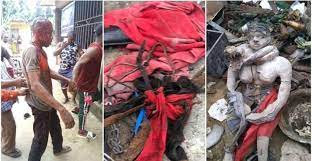 A native doctor has vanished on the spot where he was beaten to stupor for allegedly trying to burying a 3-month-old baby alive.
The ugly incident happened in Edeoha Upata Ekpeye in Ahoada East Local Government Area of Rivers State where the native doctor lives.
Member representing Abua Odua/Ahoada East Federal Constituency, Umunuma Bidemi Edward-Odoi who shared the story on her Facebook timeline reveals that, the native Doctor who hails from Delta State was caught burying a 3-month child alive.
The native doctor popularly in the area as Dr. Mike India was confronted by angry youths after being caught. He was beaten to confess but disappeared aftermath.
According to her, after they exhumed the body of the poor baby, they found out that he was already dead.
She confirmed that several unimaginable things were found in his house like photographs of people he has killed, padlocks and people tied in chains.
Every efforts by the angry youths to set his house on fire was unsuccessful as the building failed to catch fire, so they pulled it down instead with heavy weapons.
All captives were set free but the native doctor is nowhere to be found as he disappeared after being beaten to confess.
Swiped > to the right to see photos and video
(Visited 280 times, 1 visits today)