Head of the Country's Judiciary, Chief Justice, Andrew Nyirenda, SC, has retired.
Registrar of the High Court and Supreme Court of Appeal, Gladys Gondwe confirmed the development saying Nyirenda is retired after attaining the age of 65, on Christmas box, a mandatory retirement age in Malawi's constitution.
An internal memo in the Judiciary suggests, Honourable Justice of Appeal Rizine Mzikamanda, SC, will act as Chief Justice until president Lazarus Chakwera appoints a new head subject to approval by Parliament.
Last year, the government announced that Chief Justice Andrew Nyirenda had been placed on leave pending retirement with immediate effect. The notice read that Nyirenda had accumulated more leave days than the remainder of his working days until his retirement, due in December 2021.
The move was blocked following protests from law and civil society groups who said the government was meddling in the affairs' of the judiciary.
Nyirenda was among the judges who in February annulled last year's elections, which saw a narrow win for incumbent president Peter Mutharika.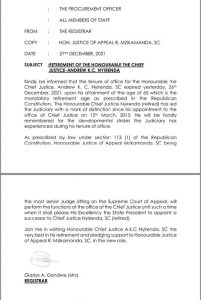 (Visited 191 times, 1 visits today)