Chilewa Printing Services Company is slowly but surely becoming a household name with its state of the art services offered to customers.
This has been noticed by the growing number of customers seeking services from the company since its inception two years ago.
The company which is located in Limbe opposite Illovo roundabout offers wide range of printing materials such as T.shirts,Banners,Bill boards and other printing services
By just seeing the final products of what the company offers, one would appreciates how the company is dedicated in offering high quality services to its customers across the country.
Speaking in an interview with faceofmalawi Chilewa Printing Services Company Chief Executive Officer (CEO) Rabson Kondwani Chilewa applauded the support Malawians are rendering to his company.
"Since this company was launched two years, the response from Malawians seeking our service has be encouraging and we really appreciate," said Chilewa who hinted that the company is currently on an expansion drive.
"Our plans as a company is to go far and expand our business by opening branches in other potential areas and probably produce competitive products ready for export," he said.
He however, lamented that luck of sound sponsorship from government is affecting the company.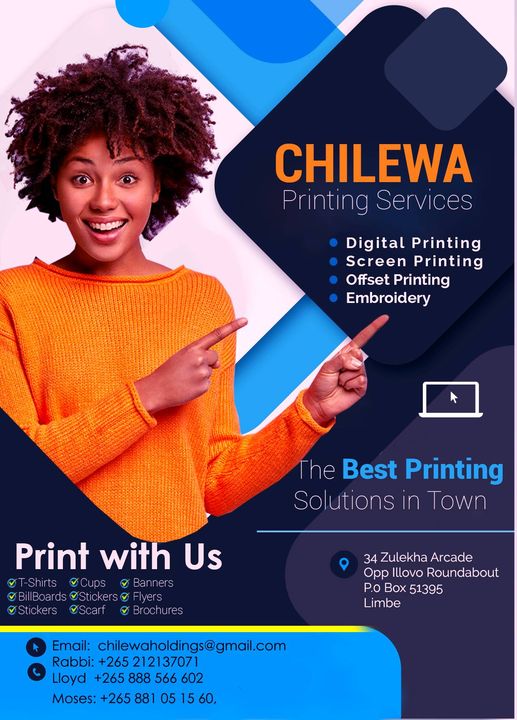 Chilewa then appealed to the Tonse Alliance government of President Dr. Lazarus Chakwera to develop a trust on the company.
"My appeal to the government is to entrust us that we have the capacity to serve them.
"We have the machinery,the technical know how,and we are registered in all various government departments," said Chilewa.
Meanwhile, Chilewa has urged Malawians to visits the company in Limbe.
Subscribe to our Youtube Channel: