Moyale Barracks Football team which is currently at number 14 has asked Super League of Malawi (SULOM) to consider giving matches equally and at the same time to the teams that are in danger of  being relegated in the TNM league.
According to the document released by the team and signed by their 2nd secretary/ Lieutenant O. Masamba, the matches involving teams that are in relegation zone should be played on the same day and kickoff at the same time.
"It is our considered view that the 3 teams MOYALE, CIVO and MAFCO are all involved in the relegation battle. And we certainly know that SULOM is very much aware of this fact, or at the least this letter will serve to remind you of the same. These teams are remaining with 2 games each to finish the season and depending on the results any team is in a possibility to be relegated or to survive.
"We therefore demand that the matches be played on the same day and kickoff at the same time in both of the teams remaining fixtures. To be more specific MOYALE FC match against MAFCO should be played on the same date and time as the CIVO vs BANGWE match. It is an open secret that failure by the league to revise this schedule will only lead to the conclusion that SULOM is favoring other teams in the relegation fight and wishes to promote match fixing as the league survival goes to the wire. We demand equal footing in the final matches," reads part of the statement.
Teams that are at risk  of being relegated of the TNM league are Moyale Barracks, Civil Service United, Ikwendeni Hammers.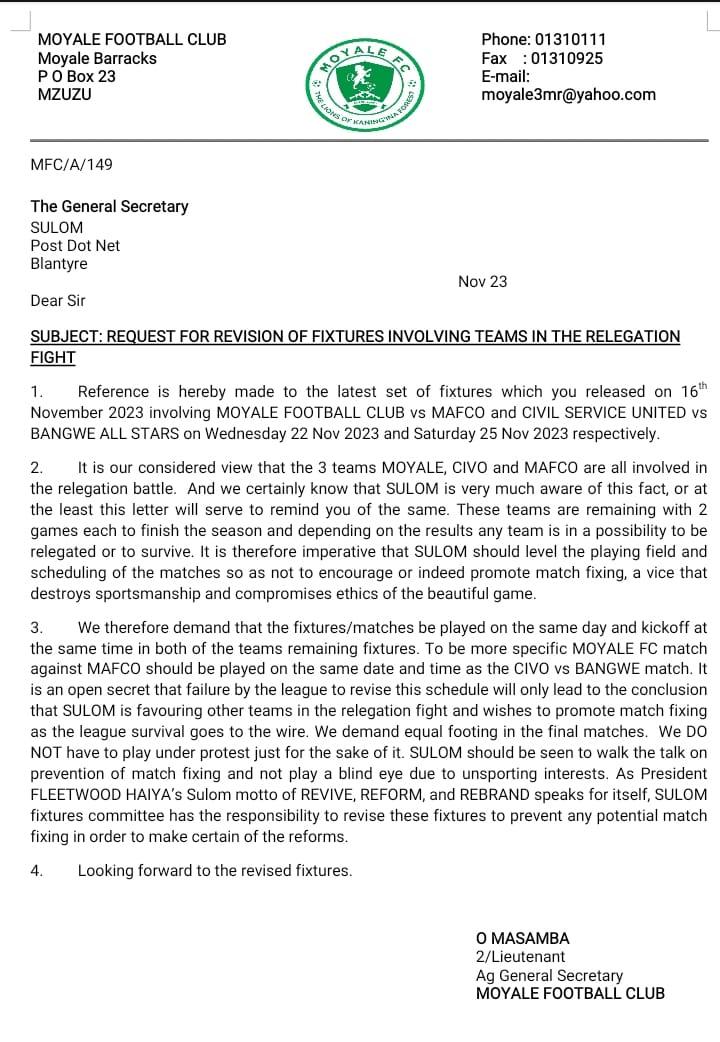 Subscribe to our Youtube Channel: