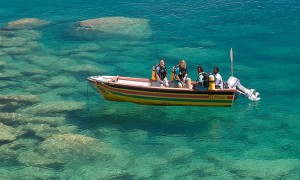 In 2005 James and Suzie Lightfoot moved to Likoma Island; James to manage Kaya Mawa and Suzie to set up her own textiles business, Katundu. In 2008 with a new family on its way they embarked on building what was supposed to be their family home. The original plans were for a two bedroom beach shack…The concept seemed to escalate as one idea morphed into another and three years later Ndomo House was finished!
Built around boulders, rough rock walls contrast dramatically against smooth plastered walls; character filled rooms meander intriguingly around the rocky hill. The house comprises of four bedrooms, three of which are ensuite, a sitting room with deck, kitchen/dining room, study/media room, three large terraces, courtyard, outside dining and barbecue area, swimming pool and secluded beach. The house is fully staffed with a nanny, cook, housekeeper, ground staff and watchmen.
Inspired by architecture from James and Suzie's travels through Zanzibar, Zambia, Malawi and Lamu in Kenya, the house design took its shape. Hints of influences from Morocco and India also evolved. This has created a melting pot of design ideas for the interiors, which have been imaginatively paired with African antiques and contemporary bespoke pieces designed by Suzie and made at Katundu Textiles on Likoma or outsourced to predominantly local businesses.
Ndomo House is located on the South West corner of Likoma Island with uninterrupted views across to the neighbouring island, Chizimulu, and on to mainland Malawi 72km away. A year round sunset is a secret surprise.
Ndomo House benefits from all the facilities and activities that Kaya Mawa has to offer and guests are welcome to spend as much time as they like at the lodge, including meals if they wish. There is a boat and vehicles at their disposal.
Ndomo is ideal for those wanting complete privacy from the outside world, a great family home or a magical escape for two. Perfect for a wind down after a safari or a destination in itself. For the freshwater and cychlid enthusiast, Lake Malawi is a spectacular arena for snorkelling and diving with over 1,000 different rainbow-coloured cychlid fish, many of which are endemic to the lake.
Lara MacDonald spent a wonderful couple of days at Kaya Mawa in October 2010 and did a hard hat tour of Ndomo House. For further details on Kaya Mawa and Ndomo House, please contact Lara on             0845 299 6212 begin_of_the_skype_highlighting 0845 299 6212 end_of_the_skype_highlighting (Extension 2) or email lara.macdonald@frontierstrvl.co.uk
Subscribe to our Youtube Channel: