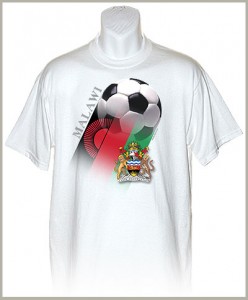 The South African National Under 23 side advanced to the last round of the All Africa Games qualifiers despite a 2-1 setback to Malawi at the  Civo Stadium in Lilongwe on Saturday.
Amagluglug's solitary goal in this second leg clash was scored by Riaan Eugene of Santos of Cape Town, but Shakes Mashaba's men go through on a 5-3 aggregate victory. The visitors won the first leg by four goals to one (4-1) played at the Moruleng Stadium in the North West province two weeks ago .
In Lilongwe, the home side scored first with the visitors equalising a short while later, but Malawi grabbed the winning goal in referee's optional time.
"It was a good game, but we lost through soft goals. Malawi had a completely different team to the one we faced two weeks ago, having called up most of their foreign-based players. Despite that, we should have scored in the early stages of the match. We can't be happy with a loss but we are comfortable we won on aggregate and this is a good lesson for our boys that when we play at home let's dominate and score as many goals as possible so that when we play away we are still safe. Our opponents showed how to do it because they really wanted to win this match, but my players stood firm, so well done to them," said head coach Shakes Mashaba.
In the next and final round, first leg to be played on the weekend of 24 – 26 June 2011, the South Africans will face the winner between Botswana and Zimbabwe who are playing on Sunday, 1 May 2011. The winner between South Africa and Botswana/Zimbabwe qualifies for the All Africa Games to be hosted by Mozambique from 3 – 18 September 2011.
The South African Under 23 squad's next assignment is a 2012 London Olympic Games qualifier against Benin away. The first leg is scheduled for the weekend of 3 – 5 June 2011, with the return fixture two weeks later.
Subscribe to our Youtube Channel: