Pupils from Ashville College in Harrogate are heading to help a charity project in the impoverished African country of Malawi this summer are stepping up their fund-raising efforts.
A group of 19 students and three staff members from the independent school will be spending almost a month at the Open Arms Infant Home in Blantyre, which is managed by former Ashville teacher, Neville Bevis.
?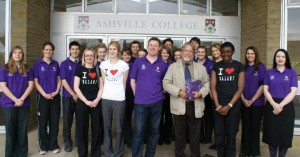 In a bid to raise funds for the trip, the pupils have embarked on a number of fund-raising initiatives. These include selling I Love Malawi T-Shirts, bag packing at a local supermarket, walking the Yorkshire Three Peaks and cooking for a dinner party.
The proceeds of last September's annual sponsored walk are also going to the charity, which Mr Bevis has been directly involved with for more than 12 years.
In that time, more than 200 pupils have visited the project, based on the shores of Lake Malawi, and have raised in the region of £160,000. Next month, the school is staging a "Rock for Malawi" evening in its Soothill Hall, to boost the coffers further.
Ashville College teacher Dave Grainger said: "The students have been working tirelessly to help raise money for Open Arms. So far, nearly £1,000 has been raised, which includes £300 from the sale of the T-Shirts. Yet to be added is the sponsored walk money, which will be a significant amount."
"While in Malawi, we will continue some project work at the Makokezi School, which was started two years ago, building a shelter for students to shade under and helping to build a new toilet facility at a different school.
"Open Arms is a superb charity and I'm very proud of Ashville's continuing involvement with it. The money the school raises is vital. All those who visit the Project get a real sense of achievement knowing that they have helped with its on-going success."
The Ashville party leaves for Malawi on Friday, July 8 and returns to the UK on Friday, August 5.
Subscribe to our Youtube Channel: