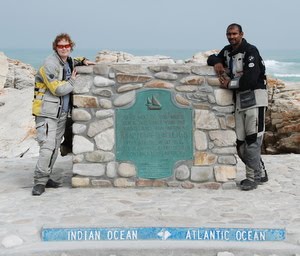 Angela & Daryll write:
We spent six days at the Small World Backpackers in Harare and we were glad to finally leave the partiers and disgustingly dirty kitchen behind with our Ethiopian AND Egyptian visas stamped safely in our passports.  We made a "run for the border" and crossed from Zimbabwe into Mozambique for the night.  Even though we were told that we did not need a carnet for Mozambique the border guards filled it out anyway and we and the bikes made it safely into our new country.
Although we only stayed in Mozambique for about 24 hours, the people seemed very friendly and everyone, old and young waved at us as we rode through their villages.  There were many beautiful boabab trees and the little grass huts seemed like a little romantic enchanted forest, although I'm sure reality for these very poor but happy people was very different.  We camped in a secure campground along the banks of the Zambezi River (a river that Travel Canada warned was flooding it banks and to proceed there with extreme caution)  and had hot showers where the water had been heated by a wood fire. The smell of campfire was lovely.
The next day we crossed another border into the tiny country of Malawi and made our way to Blantryre, the second largest city in Malawi.  A few days earlier, a politician had been killed in a road accident and hence the police where out in full force with road blocks every so often and some with radar.  As we passed through smaller villages on the way to Blantyre, the speed limit dropped to 50km/hr and with just under 40,000km on the road, it was about to happen – as I (Daryll) came around a corner, I noticed the neon green vests of the police officers a head off me and braked really hard.  I thought I got the better off  the radar gun and as I approached the officer in the middle of the road, he waved me to pull over and waved Angela and Dom who where behind me on their way.  Shit!  He took took his time to walk over to where I was and asked for my drivers license and not saying anything else.  I switched the bike off and walked over to the police vehicle where another officer sat.  The officer in the vehicle said that I was speeding and the radar had got me at 57km/hr in a 50 zone.  I knew I braked hard, but wasn't certain what I was doing so questioned the fact that I was speeding and asked to see the video which they had rigged to the radar gun.  In the mean time, Tom who had already been pulled over had paid his fine and a few more drivers where lining up next to the police car waiting to pay their fine.  Guess I wasn't the only one and those officers had hit the jackpot for the day with the number of drivers they had pulled over.  The on the spot fine was 5,000 Quecha (US$30). and a lot more than I wanted to pay.  I begged and pleaded making up excuses that I didn't have that much money on me, but they weren't having anything of it.  After a few minutes, I relented and coughed up the fine, still mad as well.  Once back on the bikes, I took up the rear position and slowed down to 40km/hr in to 50 zones to make sure I was slow as I didn't want another ticket that day.
?
Trying to talk my way out of a ticket.
?Our stop in Blantyre was merely administrative as we needed to change some money and stock up on groceries.  We had read that the little towns along Lake Malawi didn't have any banks or means of exchanging money and didn't want to trust the smaller grocery stores on what we had needed.  We were given directions to a cash & carry place on the main street.  It wasn't too difficult to find and seemed like a wholesale grocery store.  We found a few items, but still weren't able to find items like oatmeal, crackers and other vital items that we would normally snack on during the day.  There was a stark contrast between this Malawi grocery store and the last one we visited in Zimbabwe and I'm sure the food items that we were so used to having would be difficult to find further north we went.
Our direction in Malawi was to ride north up Lake Malawi, the third largest freshwater lake in Africa after Lake Victoria and Lake Tanganika.  While in Buenos Aires, we had met a South African couple at the hostel we were staying at and they had suggested Fat Monkey's at a village called Monkey Bay on the southern shores of the lake and suggested that it was a spectacular spot to chill out for a few days.  We had also learnt that there was a ferry running north up the lake that left every Friday from Monkey Bay.  The others were interested in taking this ferry north and we were considering taking the ferry half way to make some time.  After arriving at the ferry port in Monkey Bay early afternoon and talking with the ferry officials, Pat, Chris and Tom decided to take the 3 day ferry the whole way.  Dom was still undecided, but was thinking of taking it half way up and we decided not to take the ferry at all.  The beaches along the lake are spectacular, and we wanted some R&R beach time along the lake.  We had all been together for just over a month, a long time for a large group to be riding together and it was time to bid farewell for now.  Pat, Chris & Tom decided to stay at a campsite closer to the ferry while Dom and us decided to stay at the Fat Monkeys that was recommended to us.  Dom was still thinking about returning early the next morning to catch his ferry.
We had 18km of some steep gravel and washboard to get to Fat Monkeys so it was slow going.  About 7km before the campsite, we came to a junction and weren't sure which way to go.  The sign posting wasn't very clear, so took what we thought was the right way and ended up having to ride through a little village to get to the campsite.  There were little huts on either side of the gravel bumpy road as we rode along with kids running out and waving at us.  We were going really slow not to hit the children or the chickens running around and greeted and waved back to the people that thought we were just mental riding through their narrow streets.  The campsite was worth the ride and after the 45min of washboard in getting there, decided to spend 2 nights.  Dom decided against catching the ferry and decided to continue riding north with us.  Our decision not to take the ferry was mainly due to us missing all of Malawi by spending 3 days on a ferry, sleeping on an open deck and having a crane lift our bike up and strapped to an open deck and was proving to be a good decision after seeing to what we had arrived to.  Monkey Bay was situated on an inlet and would be the only spot where we could watch the sun set over the lake.  Nothing can prepare you for an African Sunset and every one is different and magnificent in it's own way.
Fat Monkeys
Sunset over Lake Malawi
During the night, I heard something hit the tent, like little plopping sounds, but didn't think anything of it and thought that it was leaves hitting the tent.  In the morning, we awoke to a tent covered in bat poo.  It was aweful, so we spent the next hour moving the tent to another spot and washing the poo off.  Thinking that we would avoid the bats for the next night, it seemed they had a vendetta against me and poo'd on the tent during the night again.  Darn bats.  After relaxing at Monkey Bay, we continued north again along the lake and found another amazing spot at a Pottery Lodge.  We were the only campers and think the only patrons at the lodge as well and got all the staff's attention.  That evening, we made a camp fire on the beach and spent the rest of the evening with a few beers watching another sunset over Lake Malawi.  As we sat next to the fire, 3 different security guards came by and introduced themselves saying that they will be taking care of us for the evening.  We were the only ones on the property and guess we had all the security that we needed.  Wasn't sure if we should really be scared.
Camping at the Pottery Lodge
Most of the camping spots along the lake are off the main road and are always down a gravel, sandy road.  The short 50m of the steep boulder filled path to our campsite the Big Blue Star in Nkhata Bay wasn't that different.  We were on the lake though and it had free wifi which was the draw card.  Nkhata Bay is over rated and the camping spot we are at isn't anything compared to where we were for the last 2 nights, though we decided to stay an extra night to catch up on emails and blog updates.  The next morning Angela and I were up at 5am to watch the sunrise.
Sunrise at Nkhata Bay
Sunrise at Nkhata Bay
Subscribe to our Youtube Channel: