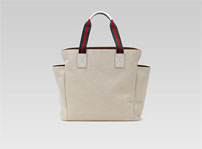 Luxury fashion house Gucci's Creative Director Frida Giannini launched a limited edition Mother's Day bag to benefit UNICEF. The inspiration to create this charotable endeavour came from Giannini's 2009 Malawi trip where she saw "first hand the AIDS epidemic that affects entire generations of families." Gucci has pledged a minimum amount of $70,000 of donations for every bag sold. The proceeds will then be able to provide HIV tests for more than 200 expectant mothers so as to ensure the safety and well-being of their soon-to-be born children.
The luxury fashion bag is not only functional but it is also chic, carrying with it the Gucci trademark of designing elegantly fabulous pieces. Made from an off-white fabric, the bag also carries the green-red-green web that is synonymous with Gucci. The leather trimming gives it a more sophisticated feel despite the bag's very simple design. It also has several components that make it highly functional including the front-zip pocket and two open side pockets. The bag's interior also has a zip pocket and three compartments inside a bigger flat open pocket.
As it will primarily benefit mothers from all over the world, the luxury fashion house has opted to launch it during Mother's Day. Giannini is on the Board of Directors of PPR's Foundation for Women's Dignity & Rights, and its support was heralded in this life-changing venture. Celebrities like Salma Hayek have also signified their support for the campaign. The special edition Gucci bag will be available at gucci.com for the limited time of April 28, 2011 to June 15, 2011. For the price of $970, purchasing this bag guarantees to save a lot of lives as it helps against the global battle against HIV and AIDS.
(Visited 30 times, 1 visits today)