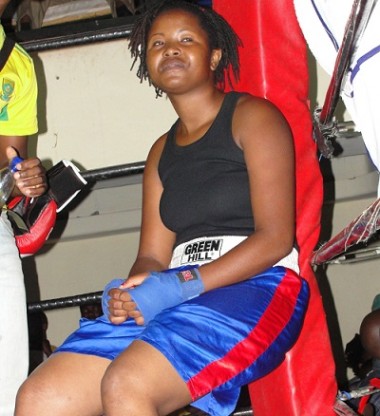 MZUZU–She fought like an Amazon with one objective in mind—to conquer and trim to size her opponent Hamisa Willy willy-nilly at her backyard and right before her own adoring fans in Kyela.
Malawi's female boxer Agnes Mtimaukanena, speaking to Maravipost.com from Kyela, Tanzania on Monday, was on cloud nine when she broke the news that she had done it, beating the Tanzanian host on points in their four-round bout on Sunday.
"Willy took me by surprise when she went into attack immediately after the first bell, throwing a flurry of punches, giving me no chance to size her up.
"She won the first round, but I was determined to fight back and show her what I am made of and I did just that in the subsequent three rounds to score a unanimous points decision on all the judges' score cards," Mtimaukanena said.
The female boxer, who left the country for Tanzania by road last Thursday to take on her Tanzanian counterpart in a non-title boxing, defied all odds to her first international fight after taking up boxing recently.
It was only her second fight of her career after a local catch-weight bout on May 8 at Motel Paradise against Happiness Nkhoma of Lilongwe, who weighs several kilogrammes more.
The bout was declared a draw, although smaller Mtimaukanena seemed to have absorbed more punches. She said the win in Kyela has spurred her ego to conquer the world and rise to the pinnacle of fame, not just for herself, but the Malawi nation as well.
Mtimaukanena has a busy schedule ahead of her after the Willy fight as on on July 10 she is expected to face Monalisa Skonda of Zimbabwe at Motel Paradise, Malawi's own version of Mandalay Bay Casino.
Read more: http://www.maravipost.com/malawi-politics/society/5314-malawis-female-boxer-wins-first-international-bout.html#ixzz1Q0AhnpY1
Subscribe to our Youtube Channel: