Malawi's ruling Democratic Progressive Party (DPP) plans to table third term bill to extend the presidency of Bingu wa Mutharika but the scheme has been exposed by about 100 DPP MPs who have since decided to shun deliberations in the National Assembly.
Some DPP MPs who have decided to shun Parliament deliberations this week said most legislators are not in favour of the bill which they described as a blow to democracy.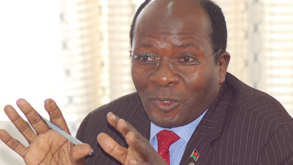 The MPs revealed the party has plotted that Finance minister Ken Kandodo should not wind up budget debate on Friday but on Monday so that the bill is brought before Parliament.
"We are not in favour of that bill. Why should Bingu continue ruling this country when we as MPs and ordinary Malawians are suffering because of his poor fiscal measures," one MP told Nyasa Times.
Deputy Speaker Jones Chingola told Parliament that Finance minister would not wind up budget debate on Friday as planned but on Monday.
Leader of the House Dr George Chaponda also told Parliament on Thursday that the House will continue with questions on Friday. But the MPs said it is during that questions time when the house will be 'ambushed' with the bill.
"We were told by authorities that government will increase our salaries as one way of enticing us to vote for the third term bill. Are you therefore surprised that the Public Appointments and Declaration of Assets Committee of Parliament has already tabled proposals for a new pay package of K450 000 basic salary for MPs plus other allowances," observed the MP.
The plan was that after tabling those proposals then the third term bill should be presented, said one MP.
The MPs said they do not want to be part of the third term bill.
"We do not want our hands to be filled with such blood. I do not think Malawians are ready to accept that bill but obviously being in majority it can easily pass," one MP said.
He said a group of them are ready to frustrate the party on this bill.
Presidential spokesman Hetherwick Ntaba however denied planning to introduce a third term or extend the presidential term, saying President Mutharika will not stand again as he has on several times indicated that he will leave office come 2014.
"He has said on several occasions that come 2014, he will not be involved in active politics and will go and rest at his Ndata Farm," said Ntaba, who is known for his rebuttals.
In 2009, it was reported that president Mutharika formed a taskforce to spearhead his intention of standing again for the third term in 2014. The news was leaked by some of the people Mutharika appointed in his taskforce.—(Reporting by Judith Moyo, Nyasa Times)
Subscribe to our Youtube Channel: