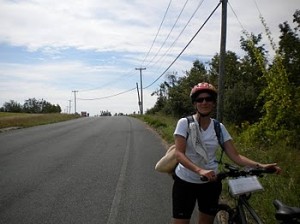 I am counting the days now! I leave for Malawi in 5 weeks from today! So, I am really starting to count down…one thing you can always count on is that time will go by!!
Have had a couple new experiences with the bike lately; I fell off when I was at the Cape…thought I could ride through some sand, but couldn't. I didn't get my feet out of the pedals until I was on the ground – the bike was in the air! That was wierd! I rode yesterday, and while I was on the way home realized my tire was low…it was really low, but I couldn't find anything in the tire! I tried to pump it up, but it is really difficult using a hand pump! Fortunately Stephen was in the area and came and filled the tire; it held until I got home! It must have a slow leak! I really have to learn how to change my tires…
Well, I have put 325 miles on my new bike…I am loving it!! At the flea market yesterday, I rode my bike there, and one person asked if it was for sale and another one just stood and admired it!! I felt very proud!
Well, the fundraising continues…need to send out a few more letters and get myself down to the local radio and t.v. stations!! Need some more publicity and try to raise some more money!!
All for now…
Karen
Subscribe to our Youtube Channel: