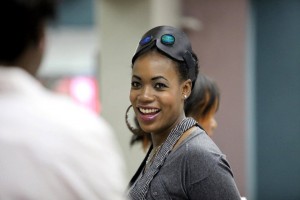 Sunday night's Big Brother Amplified eviction show saw Malawi's Felicia leaving the Heads House and the competition while Millicent moved into the Tails House. Vina burst into tears as Felicia's name was mentioned as the ninth Housemate to be evicted from the game. She had earlier saved herself and placed Felicia on the chopping block, yet she could not handle the repercussions of her action.
Felicia stood side by side with her country mate, Lomwe, holding a flag of their native country of Malawi. Even the comradery she received from her compatriot could not save her from being evicted from the game. There was a three-way tie between Millicent, Vimbai and Sharon O with only 1 country vote each. For this reason the tie-breaking mechanism was used. On a percentage basis, Sharon O (10.23 percent) and Vimbai (12.93 percent) were declared safe, and Millicent (6.41 percent) was sent to the Tails House.
This is how Africa Voted:
Hanni: 5 Country Votes – Ethiopia, Angola, Ghana, Nigeria and the Rest of Africa.
Wendall: 3 Country Votes – Zimbabwe, Namibia and Zambia.
Lomwe: 2 Country Votes – Malawi and Mozambique.
Zeus: 2 Country Votes – Botswana and South Africa.
Sharon O: 1 Country Vote – Uganda.
Vimbai: 1 Country Vote – Tanzania.
Millicent: 1 Country Vote – Kenya.
Felicia: 0 Country Votes.
Meanwhile Millicent's movement into the Tails House seems to have rekindled her love story with Alex who gladly welcomed her into the house with a warm hug. Miss P certainly should certainly feel threatened about losing her love interest, Alex. Miss P would however have more than Millicent to deal with as Alex has suddenly turned into the most desired man in the Tails House.
"I had a crush on you since Day 1?, said Weza to Alex. It didn't come as much of a shock to Bumaye, because he has been told far too many times that he was talk of the Headschicks. Upon her entry into the Tails House, Weza told Alex the girls in the Heads House played a truth or dare game where it was revealed that most of them had a crush on him and hated on Millicent for having been the first one to kiss him. Millicent confirmed the factuality of Weza's story and told Alex she has had to endure so much animosity for the incident she had with him, long after he had left the Heads House.
Weza's timing for declaring her liking for Alex leaves a lot to be desired, as she has already spent two weeks in the same House as Alex but has not said a word; it had to take Millicent's entrance to the Tails House for her to admit liking him.
Subscribe to our Youtube Channel: