Former High Commissioner to Botswana Milton Phiri has caused an uproar with his claims that president Rupiah Banda's father was a foreigner.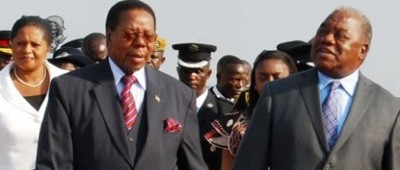 Phiri has lately been spreading the story that president Banda is disqualified to run in this year's presidential election because his father was not Zambian but a Malawian who worked on tobacco farms in Zimbabwe before settling in Zambia where he again worked on a tobacco farm.
Subsequently, he told a media briefing recently that he had written to the Chief Justice, who is the returning officer in the presidential election, to point out that Banda had in fact made a false statutory declaration in his nomination papers for the 2008 presidential by-election (to replace the late Levy Mwanawasa) by indicating that both his parents were Zambians when in fact they were not. In his letter to the Chief Justice of May 19, 2011, Phiri said:
"It has come to my attention that he (Banda) did not qualify to stand under Article 34(b) of the Constitution which reads that 'a person shall be qualified to stand as a candidate for elections as president if both his parents are Zambian by birth or by descent,'" it read and continued: "While fully aware that at least one of his parents was not a Zambian as prescribed under this article, the president chose to present himself as qualified to stand when the right and honourableâ thing to do would have been to exclude himself from standing.
"I am both capable and willing to furnish this country with details pertaining to the charges that I have made at this press conference. The president's response or lack of it will determine how we proceed in the next days," Phiri declared.
When the president denied the allegation and said Phiri was accusing him because he was "hungry" for former envoy stood by his story and now gave out what was supposed to be chapter and verse. He stated that the President's claim that his father came from Zambia was a lie. He insisted that Banda senior was a Malawian."Let me assert that there is nothing that the president said that changes what I had earlier on said.
Let it be known by all that the president's father, Bwezani Banda, was born in Tukombo village in Chief Fuka Mapili's area of Nkhata Bay in the then Nyasaland. "The senior Banda came to the then Fort Jameson (now Chipata) in the then Northern Rhodesia as a young man in his mid-30s to work on a farm belonging to a Scottish tobacco farmer by the name of McGregor. He came to Fort Jameson upon transfer from a tobacco farm in Lilongwe," Phiri said.
Later on Banda senior left for the then Southern Rhodesia to work on another tobacco farm there. It is while he was in Gwanda, Southern Rhodesia, that Rupiah, his brother James and other siblings were born." Phiri said.Bwezani Banda then returned to Nyasaland (Malawi) in 1962 and settled at Kasungu where he was involved in tobacco farming for a brief period.
Somewhere between 1963 and 1964, he came back to Fort Jameson and subsequently acquired a farm on which he settled until his death," he stated.
"The significance of this brief history is to demonstrate that Banda senior was not a Zambian neither by birth nor by descent as his ancestry and birthplace were what is now known as Malawiâ" the former diplomat under the Chiluba administration said. Phiri could not have been prepared for what followed. Pressure from both the family, the Movement for Multiparty Democracy (MMD) and supporters seems to have decided Banda's response – to take him up on his claims.
A press party comprising print and television journalists was organised to travel to Malawi and visit the exact places that Phiri had detailed as the real home of the president's father.
But before that he was already in deep trouble. The traditional ruler of the area where president Banda hails from, Chief Chikuwe, strongly disputed that version and summoned Phiri who appears to come from the same area, to appear before his court and the elders in the area to explain himself.
The chief was indignant and said he knew the president's genology well and wanted to be updated on what he may not know. The ex-envoy stayed away!
The media party that travelled to Malawi went to Nkhata Bay and on to the mentioned village, and chief. All denied knowledge of a person or having ever known of an individual in the village answering to the particulars of the late Banda senior as detailed by the former diplomat.
They were emphatic that while the name Banda was common in the area, they had known of no Banda to fit Phiri's description and he couldn't have come from there because they would have known. The name Banda was common to Zambia, Malawi and Mozambique because the Chewa people who have that name live in the three countries. (Sila Press Agency)
(Visited 20 times, 1 visits today)