Foreign Secretary William Hague has updated Parliament on the review of the UK's relations with Malawi following the expulsion of the British High Commissioner in April.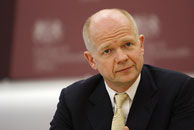 In a written statement to Parliament the Foreign Secretary said:
I would like to update the House on the outcome of the review of the UK's relations with Malawi which I announced in a Written Statement on 28 April 2011. This followed Malawi's unwarranted decision to expel our High Commissioner.
I told the House on that occasion, the FCO had already instructed Malawi's Acting High Commissioner in London to leave, which she did. Her invitation to attend the Royal Wedding was also rescinded.
The review covered the full range of the UK's relations with Malawi, including migration, defence relations, and educational and cultural relations. This review has been undertaken in close consultation with the Secretary of State for International Development as it also covered development assistance. Aid from all donors accounts for one-third of the Malawian Government's budget; the UK is one of the largest bilateral donors. The review also took into account the very significant links between Scotland and Malawi, which are an integral part of the overall relationship. The overriding principle in conducting this review was to demonstrate the serious consequences which we told Malawi would come from a decision to expel the British High Commissioner, without letting the Malawian people suffer for the actions of their Government.
Our position remains that, while formal diplomatic relations continue to exist between the UK and Malawi, the UK will not appoint a new High Commissioner to Malawi for the time being; nor will we accept a new High Commissioner from Malawi to the UK.
We have also taken certain measures concerning our visa service for senior Malawian visitors to the UK. The present visa arrangements for all other Malawian citizens however are unaffected.
The review also considered the UK's relations with Malawi in the context of the various international organisations to which we both belong – particularly the Commonwealth – as well as of Malawi's relations with the European Union. The UK will not be supporting Malawian candidates for elections to international organisations of which the UK is a member for the time being.
On the issue of UK aid to Malawi, my Rt Hon friend the International Development Secretary has decided to halt all general budget support until progress has been made in economic management, but to continue the programmes which protect Malawi's many poor people.
(Visited 24 times, 1 visits today)