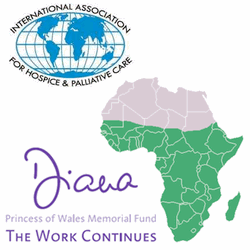 This is heartening. The International Association for Hospice and Palliative Care (IAHPC) calls for applications for a bursary scheme to support palliative care in sub-Saharan Africa. This program is made possible thanks to a grant from the Diana Princess of Wales Memorial Fund's Palliative Care Initiative.
Individuals living and working in Ethiopia, Kenya, Malawi, Rwanda, South Africa, Tanzania, Uganda, Zambia and Zimbabwe are eligible to apply.
Bursaries will be awarded in two categories:
Postgraduate qualification courses in palliative care: Courses need tobe in institutions which are government accredited and academically affiliated and for post graduate level leading to a certified and government recognized formal degree (ie Distance Learning Diplomas, MSc/MPhil).
Research courses: On basic research and methodology, including study design, statistical tools, statistical analysis and applicability, writing grant applications for research and preparing a paper for publication in peer-reviewed journals.
Applications must be received three (3) months in advance of the course starting date. Preference will be given to individuals applying for courses based in Africa. Applicants may only apply for one of the two bursaries.
To learn more about the criteria, description of the bursaries and how to apply, visit IAHPC website…
The Diana Princess of Wales Memorial Fund's Palliative Care Initiative is "committed to spending up to £10 million to promote the scale-up of palliative care in sub-Saharan Africa. The desired outcome is that palliative care is accepted as an essential part of, and integrated into, the care and treatment of people with HIV/AIDS, cancer and other life-limiting illnesses."
Frontline Palliative Care: Learning from the Kenyan Experience:
Evaluation of Kitovu Mobile Palliative Care Service, Masaka, Uganda (pdf)
Subscribe to our Youtube Channel: