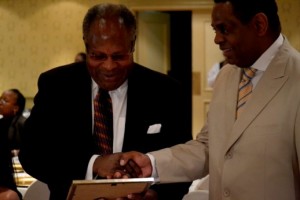 On Sunday 17th July, 2011, Africa Heritage Society (AHS), based in South Africa salutes champions of freedom at a special gala and awards ceremony in Johannesburg. The event under the AHS's Salute Freedom Award Programme has been themed Africa Heritage-Champions of Freedom, Justice, Democracy, and Equality Appreciation Day.
Honourable guests at the awards, inaugurated in July 2009, include His Excellency, Dr. Bakili Muluzi, Former President of Malawi, Mr. Andrew Mlangeni (South Africa), International Ambassador Oscar J. Webb and Reverend Motlalepule Chabaku. All these special guests will receive the AHS salute awards on the day.
Muluzi contributed to the freedom of the people of Malawi and ushered in democracy and economical change through peaceful means; Mlangeni was sentenced to life imprisonment in the Rivonia Trial and spent 26 years in Robben Island with Nelson Mandela; Ambassador Webb is AHS Patron and International Ambassador of Goodwill and Chabaku worked for the liberation of oppressed South Africa.
Core activities of Africa Heritage Society (AHS) (www.africa-heritage.com) evolve around providing a
platform to connect and promote business, social and cultural activities in Africa, operating through chapters across the continent. AHS is a product of a new African reality, driven by business. The members of the society, businessmen, scholars, and industrialists, were motivated by the idea of raising high the collective flag of African success by providing a platform to recognize and celebrate African achievement.
The Salute Freedom Award Programme was initiated by AHS members. The purpose of the program is to create a forum that celebrates and recognizes men and women that have made significant contributions that have shaped and broaden the African heritage. Also, those who brought lasting and positive change for Africans and the world. It is vital to Africa's future development and prosperity that Africans be encouraged and cultivated.
"July 17th is observed with activities and programs that raise awareness and appreciation of the role played by champions of change. Salutes will not only be to former President Nelson Mandela but other significant game changing players who have helped shape and define the character of Africa like former Malawian President Dr. Bakili Muluzi", said a statement from AHS.
It is the AHS – Salute Freedom Award Programme's objective to recognize, grow and nurture exceptional African individuals, groups, companies, institutions, amongst various players to enable the greatest possible impact in their communities and also inspire more African people to become engaged in improving and create positive stories about Africa. These Awards are to demonstrate that there are people within our communities who are still achieving and are good role models. The awards are intended as incentives for many people in reaching their future goals and try to make it happen that they may shine.
By honouring people who have inspired, defined and shown society its common humanity, AHS aim to: provide a platform for education, knowledge transfer and business development; to celebrate our heritage, through recognizing leadership and excellence of successful individuals and supportive major corporations; provide entrepreneurial training, professional development and personal networks while facilitating meeting of diverse cultures in sharing and learning from each other in the quest for growth and development.
Previous winners of the AHS salute awards have included Dr. Kenneth Kaunda, former president of
Zambia (Lifetime Achievement Award); Baroness Lynda Chalker, a Member of the Global Leadership Foundation, which works to promote good governance around the world. She is also the founder and chairperson of Africa Matters Limited, an independent business consultancy. Ms Chalker is also the Chairperson of the Medicines for Malaria Venture, a not-for-profit foundation. The list also has recipients like Parmanathan Mariemuthu, an AHS member and one of SA's most influential and successful African entrepreneurs and Buhle Mthethwa, an innovative business chamber leader with ten years as an SMME owner and elected leader of SA's foremost African Business Chamber.
Freelance Journalist & Independent Media Consultant based in Johannesburg, South Africa.
Subscribe to our Youtube Channel: