It's known as Lake Malawi to the Malawians and Lake Niassa to the Mozambicans, not many people know that the lake forms part of the border between these two jewels of Africa. Is it one of the most significant bodies of fresh water in Africa, being the 3rd largest on the continent (after Victoria & Tanganyika) and 9th largest in the world, borders 3 countries and is habitat to more species of fish than any other body of fresh water on earth. It is truly one of the marvels of the Africa.
Nkwichi Lodge is lucky enough to be situated on one of the most pristine stretches of lakeshore, on the eastern Mozambican shores of the lake. Here are 5 reasons why paying a visit the lake and Nkwichi Lodge is so magical:
1. It is home to the greatest population of the famous Cichlid Fish, which are known for their unbelievable range of colours (one school will not be the same colour as another) and interesting breeding techniques. Snorkelling the 'cichlid cities' off of Nkwichi's beach often turns into a full day activity.
2. It was named 'The Lake of Stars' by David Livingstone himself when he came across it in 1859 due to the lanterns of the fisherman at night resembling a sky of stars. Another nickname is 'The Calendar Lake' due to it being 365 miles long and 52 miles wide (at its widest point)
3. The tropical waters in front of Nkwichi Lodge are so clean that you are able to swim & drink simultaneously, a very natural feeling indeed.
4. It was officially declared a reserve and Ramsar site by the Government of Mozambique on June 10th 2011 in an effort to protect one of the largest and bio-diverse freshwater lakes in the world.
5. The Nyanja people (people of the lake) are amongst the friendliest and most welcoming around. Not only will a visit to Nkwichi Lodge afford you the opportunity for unprecedented relaxation, but will also mean that you get to interact with them as well as contribute to various projects underway to responsibly and sustainably develop their communities with the Manda Wilderness Community Projects.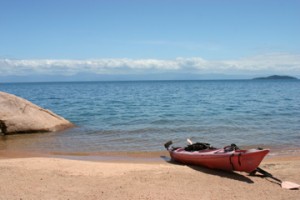 Subscribe to our Youtube Channel: