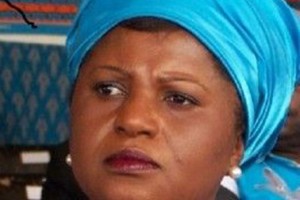 Human Rights Conservative committee MHRC says president Bingu Wa Mutharika wife Calista sentiments on effects of forex & fuel shortage on rural masses is irrational and absurd.
The first lady said this when she officially opened the Matili Hearth Centre in nzimba district.Callista accused the organizations in the country of seeking to disturb the country's peace through their support for homo sexuality by the demonstrations that took place on the 2oth July of last month
She also accused them of milking western donors.
But MHRC chair person John Kapito said in a questionnaire in response to what Callista said that the negative impact of the fuel shortage hasn't spared the public transport sector which he said is the hub of rural life.
Kapito however urged all concerned parties to work on putting in peace objective strategies for dialogue, effective engagement and national building process that would fair inclusive and respect full of human rights
At least nine NGOS have issued a statement in which they described the sentiments by the wife to the president insinuation that rural people are hot affected by fuel shortage as reckless &un acceptable.
The NGOS include Human Rights Consultative Committee (MHRC), Malawi Congress of Trade Union (MCTU) Catholic Commission for Justice and peace (CCJP) centre for human rights and rehabilitation (CHRR) and hot forgetting institute for policy interaction (IPI).
But state house Albert Mungomo said the first lady was hot responding to issues raised in the country petitioned president Bingu wa Mutharika look into issues such as fuel crisis and o deficit budget the relationship between Malawi and its donors, gorvernance and many more.
In a related development, Malawi watch chair person Billy Banda has again accused Callista Mutharika and ordered her to close her mouth and leave politics behind and instead she must concentrate on her charity work.  Banda therefore asked the president to sit down with her and advise her on what to say .He further added that in past Malawi had the late Ethel Mutharika, Shanil Muluzi, the wife to the former head of state Dr Bakili Muluzi and Cicilia Tamanda kadzamila, a hostess to the late first president of Malawi Ngwazi Dr Hastings Kamuzu Banda, saying they have never ever spoken such words.  He then challenged her stick to her job as the wife to the president and the mother of all.
(Visited 70 times, 1 visits today)