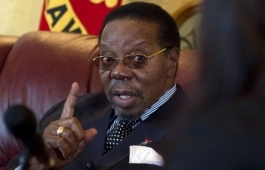 President Bingu Wa Mutharika said he is ready to declare war on his critics if they are not ready for the national dialogue he has initiated.
Mutharika was speaking during the launch of the number 8th Agricultural fair which took place in the trade fair ground in Blantyre.
A highly charged Mutharika, said his critics are denouncing the presidential contact and dialogue group which he set up to keep resolve the crisis the nation is facing.
But Rights activitists Benedicto Kondowe arged the president to stop threatening Malawians as a solution to the countries problems and appealed to him to build a nation alternative views.
Kondowe who is National Civic Society Coalition for Quality Basic Education CSCQBE said Malawians want to see students learning at chancellor College teachers paid on time, public hospitals being stocked with all essentials drugs and fair just taxes.
On his part Malawi watch leader Billy Banda said the president has short himself in the foot and described his remarks as worst public speech.
Muthalika directly attacked the head of the catholic Church Bishop Joseph Zuza of Mzuzu, saying the bishop would not have walked out free from the COMESA hall of it was the single party in the country after allegedly calling him a fool (Chindere).
During the national day of worship which happened on august 6-2011 which was aimed at seeking God's interventions forgiveness and reconciliation and peace Zuza did not mention any person including Mutharika by name but just said no man is perfect.
Subscribe to our Youtube Channel: