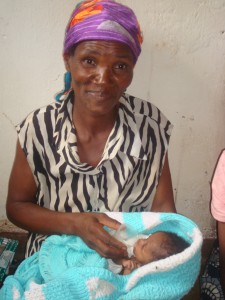 Can you imagine being 18 years old, HIV positive, with no husband and pregnant? Now add to this the fact that you are poor in one of the poorest nations of the world and you just got diagnosed with placenta previa (when the placenta is attached to the uterus super close to, or covering the cervix), you are bleeding severely. This is the story of Tricia. An 18 year old woman living in Malawi. She was fortunate enough to receive a life saving c-section (for both herself and her baby). Her baby was 2lbs when she was born. Tricia lives with her mom and in order to survive, has become a prostitute.
This is the reality for many women in Malawi, they are poor, they are pregnant and they have nothing, not even access to healthcare. Our friends at Chimwemwe mu'bereki (Joyful Motherhood) are working tirelessly to reach out to these women, to provide education, healthcare, care for babies and now they've just expanded their program to also support critically ill pospartum moms. They just hired 10 part time nurses to provide 6 visits to 60 women. Women like Tricia. This new program is already bursting at the seams, there's simply not enough nurses to meet the needs of the women!
A Joyful Motherhood nurse is now working with Tricia to counsel her about HIV, to assist her with accessing treatment and to work with her to find an alternative to prostitution.
Another woman, Tina, had a difficult prolonged labor which resulted in a ruptured uterus. A hysterectomy was performed due to the rupture, which left her sterile. In her village people believed that the rupture was caused by her infidelity and as a result of this misconception her husband left her and she experienced stigmatization. The Joyful Motherhood nurse visited her in the village and monitored her recovery, and during those visits she also counseled Tina's husband as well as the village elders to explain the reason her uterus ruptured. After several visits the community members understood the cause of the rupture and the urgency of getting a women to the hospital who is experiencing a difficult labor. Tina's husband returned.
African Mother's Health Initiatives and Joyful Motherhood are on the ground in Malawi and making an incredible difference one baby and one mama at a time. We love what they're doing and we hope you do too! Since they are such a small organization, literally EVERY PENNY that is donated goes directly to helping babies and mamas in Malawi.
Join us in helping them to reach more people!!
Subscribe to our Youtube Channel: