Courtesy of Mission Network News- http://mnnonline.org
A painful absence of rain has caused famine across the land in the Horn of Africa. Now for the first time in five years, Malawi could be facing famine as well. But this time, it has nothing to do with drought.
After a number of protests and demonstrations, Malawi's president finally vowed last month to make some changes. Since then, the cabinet has been shifted and downsized, but the country has otherwise been at a standstill. Everyone seems to be awaiting a crisis.
"The challenges that continue to face the country are really around fuel and Forex–foreign exchange–shortages," explains CURE Malawi executive director Stuart Palmer.
The fuel shortages have been severe, causing gasoline prices to skyrocket in the severely impoverished nation. In Malawi's commercial hub Blantyre, gasoline costs are nearly double what they were a year ago. At the same time, foreign currency is becoming so rare that business owners can sometimes no longer obtain it from banks. Store owners who need to import packaging items such as cardboard boxes are unable to purchase even these most basic items.
As a result, one blaring concern remains famine. "At present, diesel is still short. It is expected that the fuel situation will get worse through the next two months especially." Palmer explains that, among other things, "Fuel is needed in trucks to move the fertilizer and seed out to the farmers around the country."
Meanwhile, farmers need to start preparing for planting before the coming rainy season. "Now is a very important time of preparation in the agricultural world as people begin to get the land ready, begin to make sure they've got seed to plant and fertilizer to apply to that seed."
But foreign exchange shortages have put farmers in a headlock. "A number of those things — particularly fertilizer — is bought from abroad, and that needs foreign exchange." Palmer adds, "If the fertilizer does not make it into the country in the next few weeks and out to the farmers, then even if the rains are good — which they are not always, then their crop will be poor, and people will starve or become dependent on food aid."
Malawi has proudly averted famine for the last five years by ensuring that donor-subsidized fertilizer and seeds are available to the poorest farmers. The Toronto Star reports that a number of nations have frozen a combined $750 million in assistance to Malawi, though. If Malawi's government doesn't make decisions soon, the nation could be looking at no fertilizer, no fuel, and thus no food.
Palmer notes, "I think the government has some difficult decisions to make at the moment as to where to use the perhaps limited supplies of foreign exchange that is does have. Should it buy fuel? Should it buy fertilizer?"
As of right now, however, President Bingu wa Mutharika does not seem to be making any moves at all. "The rhetoric that's coming from the president is not the rhetoric of somebody seeking reconciliation and dialogue with critics, but is very much that of somebody that wants to fight," observes Palmer.
Others confirm Palmer's findings. The Toronto Star reports that in a late August speech, President Mutharika shouted, "Enough is enough. If my opponents want war, so be it. I will take them head on. Let the country go on fire."
A bout of nationwide protests is scheduled for September 21 as Malawians continue attempting to make their voices heard. Despite a few isolated outbreaks of arson and vandalism recently, Palmer remains optimistic that the demonstrations will be peaceful. Nonetheless, the people of Malawi, known as the "warm heart of Africa," are far more than frustrated.
In the meantime, the hospital Palmer runs has also suffered from Malawi's slowed economy. Although the hospital is running per usual and continues to offer free surgeries, fuel shortages and thus a lack of reliable public transportation have made it extremely difficult for patients to make it to their appointments. Palmer says the dilemma has created a 50%-75% no-show rate for surgeries. This costs the hospital, but also means fewer kids receiving life-changing surgeries and the hope of Christ.
Still, CURE presses on. Every child and guardian that does show for surgery not only leaves with a new lease on life, but with a Message to tell. As CURE shows patients the love of Christ, thousands of Malawians are going back to their hometowns sharing their stories and the story of Christ.
Only His message can truly change Malawi. Pray for lives to be changed and for peace to prevail in the nation. Appeal to the Lord to keep famine at bay and to transform the president's heart.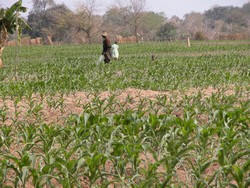 Subscribe to our Youtube Channel: