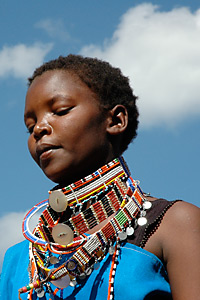 Women in developing countries have greatly improved their access to education and work, but higher income does not necessarily bring equality with men, according to World Bank research.
In its World Development Report, its flagship annual publication, the bank estimates that lower birth rates and higher death rates for women suggest there are about 4m "missing women" each year in developing countries.
It argues that giving women more access to education can improve economic growth. "Blocking women and girls from getting the skills and earnings to succeed in a globalised world is not only wrong, but economically harmful," said Justin Lin, the bank's chief economist.
The bank cites studies showing that allowing women the same access as men to fertiliser and other farming inputs could increase production by 11-16 per cent in Malawi and 17 per cent in Ghana. The UN estimates that equalising inputs between men and women in developing countries overall would lift output by 2.5-4 per cent.
Women's life expectancy and enrolment in education has increased rapidly in developing countries over the past few decades. Most countries now have the same proportion of girls and boys enrolled in primary school, and a third of low-income nations now have more girls than boys in secondary education.
But although economic growth provides more job opportunities for women, the bank warns that local attitudes and customs often prevent them realising their potential.
As income has risen and ultrasound technology has improved, families in northern India and China, for example, have acted on their preference for sons by aborting female foetuses before birth. Estimates suggest there are more "missing girls" at birth in China now than there were 20 years ago.
The bank says the preference for sons rather than daughters accounts for around a third of its estimate of 3.9m "missing women", with the rest arising from a combination of higher death rates in early childhood and high rates of maternal mortality. Deaths in early childhood have risen sharply in sub-Saharan African countries with high rates of HIV infection.
The report argues that governments can improve gender equality with basic services such as clean water, which reduces maternal mortality, and by tackling long-held prejudices and customs about women entering the workforce or particular occupations.
Subscribe to our Youtube Channel: