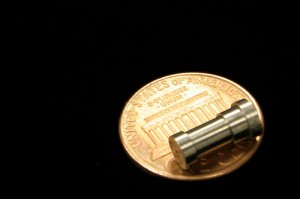 Researchers at Pacific Northwest National Laboratory have developed a methanol fuel processor for supplying hydrogen to fuel cells at the sub-watt scale for the Defense Advanced Research Projects Agency Microsystems Technology Office. It has application to microsensors and other small electronic devices.
For more information, visit www.pnl.gov/news/
Sealing metal silo used for maize storage, Kenya

technology supplies Image by CIMMYT
Demonstrating how to close a metal silo used for storing maize grain in Embu, Kenya. Rubber strips made from tire inner tubes are tied tightly around the lid of the silo to seal it and make the container airtight.
CIMMYT's Effective Grain Storage project, funded by the Swiss Agency for Development and Cooperation (SDC), is initially focusing on promoting these metal silos with partners in Kenya and Malawi, before widening the initiative to other African countries over a ten-year project. The silos were originally developed for Central America and have been adapted for Africa.
By providing a reliable means to store grain without loss of quality, the silos provide African farmers with a way to control their post-harvest losses. Rather than selling surplus grain straight away, they are able to wait and get a better price for their crop, stabilizing supplies and prices of maize while increasing farmers' food and income security.
Photo credit: CIMMYT.
Subscribe to our Youtube Channel: