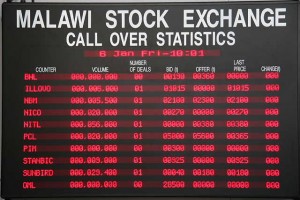 In Malawi, the index advanced by 60 points to close the week at 4,965.87 (+1.22% w/w) representing 0.55% YTD. Turnover increased to MWK 54m from MWK 21m registered last week. The traders in the week were FMB, Illovo, Mpico, NBS, NICO, NITL, PCL and TNM (+16.7%, MWK 1.75). Demand for TNM, Standard Bank and OML is still high.
Telekom Networks Malawi Limited (TNM) has received an expression of interest from and entered into discussions, with a potential strategic equity partner, the outcome of which may affect the TNM share price. Shareholders are therefore advised to accordingly exercise caution in dealing in their shares in the Company until a further announcement is made. TNM is further informing the general public that all efforts will be made to communicate further developments when and as required.
Malawi's foreign currency reserves position in the whole financial system stands at 3.5 months of import cover. Analysts, however, say official reserves which authorities have control over are still below the recommended minimum of three months. According to the latest figures from the Reserve bank of Malawi for the week ending 2 September 2011, the cumulative cover is equivalent to USD 447m (MWK 74.6bn). This was an improvement from the earlier week ending 26 August 2011 during which import cover was recorded at 1.9 months, an equivalent of USD 245m.
(Visited 23 times, 1 visits today)