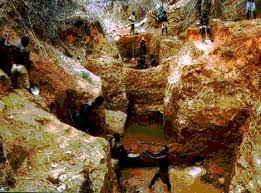 Globe Metals & Mining (ASX: GBE) is forging ahead with the Definitive Feasibility Study (DFS) at its Kanyika Niobium Project in Malawi, with an Environmental Impact and Social Assesment (EISA) study underway.
The Kanyika Project has a JORC Resource of 60 million tonnes, containing a higher grade component of 21 million tonnes at 4,100 parts per million niobium, with significant additional valuable minerals, including tantalum, uranium and zircon.
The EISA is planned for completion in the March quarter of 2012, while the DFS is expected in the September quarter 2012.
Construction at Kanyika is scheduled to begin in 2013, and production in 2014. The project will be mined at an initial rate of 1.5 million tonnes per annum for a mine life of 20 years.
Coffey Mining has been engaged to prepare the mine plan and mining reserve, with the latter to be completed as the project's cost profile is developed. Mining will be based on a low strip ratio, open pit operation.
Preliminary plant and infrastructure design is progressing using a number of dedicated consultants before handing over to a suitable EPCM organisation. Negotiations have also commenced with third-party processors to evaluate possible toll-treatment options for Kanyika concentrates.
Infrastructure and project site works

The site arrangement plan is at an advanced stage, with all major features located, while hydrology, hydrogeology and geotechnical studies are also progressing well.
A preliminary tailings storage facility design has been prepared, and site investigations conducted to confirm the deposition strategy and embankment location.
Tailings will be managed using a relatively conservative deposition strategy and minimal environmental concerns are anticipated.
Work is underway to evaluate other areas, including logistics, human relations and project risk mitigation.
Optimisation programs

As a risk mitigation strategy, Globe is conducting an intensive laboratory test program to optimise earlier test work results and scale outcomes to the production plant level before proceeding with pilot testing.
Metallurgical test laboratories in Australia and China are working with Globe to finalise the processing flowsheet before the process plant design is completed.
There may be some delays in preparing the final optimised flow sheet due to the further investigation of process enhancements, with high demand for testing infrastructure in Australia.
Preliminary plant and infrastructure design is progressing and egotiations have commenced with third-party processors to evaluate possible toll-treatment options for Kanyika concentrates.
Environment and community

Outcomes from the EISA study to date have been positive, and Globe has begun negotiations with the local authorities to plan site resettlement. Some 125 homesteads will be relocated in preparation for the project construction.
Globe is working closely with the District Commissioner and Traditional Authority to ensure the interests of all stakeholders are protected.
Globe's African operations

In addition to its flagship Kanyika project, Globe Metals & Mining has a number of other projects at an earlier stage of development in Malawi and Mozambique.
In April 2011, Globe entered into a strategic partnership with East China Minerals Exploration and Development Bureau (ECE), a Chinese state owned enterprise with extensive mining operations in China and overseas.
ECE is now the largest shareholder in Globe, and a key partner for Globe's growth ambitions in Africa.
Subscribe to our Youtube Channel: