1-Since your expulsion, where have you been and what are you doing?

In Sweden – looking for a job.

2-Are you staying with your mother? Wife?

Which mother???? I have no mother here. I went to try and talk to Miriam Kaunda / Johansson the other day…she shouted that I should go away.

Wife?? I am not married…divorced 2007…

3-What is she saying about your status?
If you are referring to Miriam Kaunda…I do not know. You can ask her. I would suggest you send someone to her place of residence Öthammarsgatan 75, Stockholm.

4-Do you believe it was a planned move to have you expelled from Malawi?
Of course it was a planned move. They were trying to find any way to shut me up. They tried to kill me many times, they tried to threaten me, they tried to bribe me, they tried to deport me…they tried to make claims of sedition …and finally they just threw me out.


5-What is your next move now?

I pray for my country to keep the fire burning!

6-Are you getting any assistance from Swedish government? What type of assistance?
Actually I have had to seek the assistance of the welfare to survive. It is minimal but I have at least one meal a day.
I have also been to the police and social welfare. However, they do not seem to want to open a case about my illegal deportation. Maybe it is because Hakan Johansson is Swedish and a lot of the investments my father let him do were in Swedish companies. It seems that the government may be involved in keeping me hidden on this end too. But instead of them hindering me here too but an economical arrest method they use, they should understand that it would be more profitable for them to work with me. I am well aware that things were done n certain ways regarding my adoption which may not be of their interest for it to be dragged into court. I have not taken them to court for this adoption mess but the way they are playing this game they are forcing themselves into court. And if another attempt is on my life to kill me here I expect the police and authorities to act and act to protect me which they refuse to do now. What they should know is that if anything should happen to me OR if they keep on with this stupid economical arrest game then they will force human rights advocates to start outing how things were done. I personally do not understand these peoples tactics…I am not their enemy. As I said, if they would work with me to get rid of the bad omen over Malawi, then we would all have a very profitable future. I have sent all the information to the Swedish government, including the Prime Minister. Also, numerous other authorities have been given the information.
7-Do you have plans to come back to Malawi to continue with your legal battle?

My heart is always in Malawi, always has been and always will be. I care for Malawi and the people of Malawi. I worry for their future. As my father once said "MY PEOPLE WANT ME HOME DO YOU UNDERSTAND ME! RIGHT NOW THEY WANT ME HOME IN NYASALAND!"…….I just love this quote from my father….it could be me saying that
8-If so, in what way since you might not be allowed in the country?
Why would I not be allowed into the country? On what grounds? I was illegally kicked out. They held a pistol to my head shouting at me to sign documents stating that I am not the son of Kamuzu Banda. I told them to go ahead and shoot. Then I was given another document to sign stating that I should sign to agree of being deported BUT if I do not agree then I have the legal right to appeal by 14:00hrs. As the time was only 12:05hrs at the time then I told them to take me to the magistrate court as it stated on the document, so that I could appeal. They said I was not allowed to appeal no matter what the document said.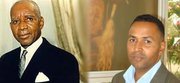 9-Some people claim that you have a Malawian passport. Any truth? What number? When was it taken?
Yes, I have a Malawian passport. The passport nr is 432123. The authority records show this. The courts have seen these documents in Blantyre. As I was imprisoned in Sweden, my two passports "disappeared"!! Can you believe that while you are in jail both your passports disappear. One, the Swedish one "disappeared" from my house where my ex-wife was. Only my passport disappeared not the rest of the family´s passports though they were all kept safe in the same place. I have heard that it was the officials that took it so that I would be stuck in Sweden. Also, my Malawian passport which was kept in Miriam Kaunda / Johansson's bank safe "disappeared". Clearly I was to be kept IN Sweden and OUT of Malawi.
But I got a new passport in Sweden though some authorities tried to tell me to not get a new passport…I did it anyway to go home. Once I got home I went to the immigration and presented all the proof, actually more proof than necessary in order to get my Malawian passport reissued. This became a case at immigration it went to the president of Malawi they told me. I was then expecting to hear from the president but I never did…but I had all the documents to legally get my passport reissued. It seems clear that governments may be working together to keep me IN Sweden and OUT of home.
I think it would be in the Swedish government's interest to help me. I am not their enemy.
Subscribe to our Youtube Channel: