Chifundo Zimba plans to use her UNC nursing degree to improve the profession in Malawi
By Nancy Lamontagne
Doctoral student Chifundo Zimba is the first nurse sponsored by the UNC Project-Malawi to attend the UNC School of Nursing. She wants to use her experience at the School of Nursing to advance nursing in her home country.
"As the first PhD-trained nurse at the UNC Project, I hope to have collaborators at the School of Nursing who can assist me in establishing nursing research, which we don't have currently," she says.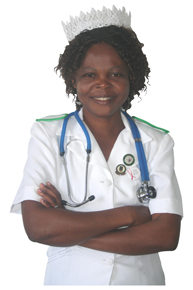 The UNC Project is a partnership between the University and the Malawi Ministry of Health to carry out research, care, and training programs in the capital city of Lilongwe and in some districts within the central region of Malawi. In 2001, Zimba joined UNC Project as a research nurse for a study examining how to prevent mother to child transmission of HIV. She was the 54th employee hired, and now UNC Project has grown to more than 250 employees. The project has also grown from only a few research projects focused on HIV and STD prevention to more than 15 research projects being performed today, including a large malaria vaccine study.
"The UNC Project is positively affecting Malawi not only by being a very big employer but also by being a large collaborator with our government," Zimba says. Some of the research conducted by the UNC Project has been translated into policies that are implemented by the Malawi government. The Project also provides support for HIV and STD prevention programs, some of which began as research and have since been adopted across the country.
For her dissertation, Zimba plans to conduct research related to prevention, management, and/or care of women in Malawi with HIV. "I am learning a lot of which I think I will translate to knowledge to assist my fellow Malawians," she says. She is also thinking about working with the University of Malawi to develop programs that will uplift the nursing profession in Malawi.
Subscribe to our Youtube Channel: