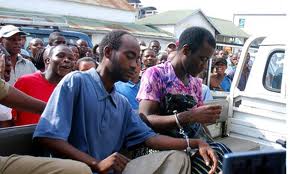 Malawi's Solicitor General says his country is not backing away from its controversial anti-homosexual laws.
Malawi's law classifies homosexual behavior as "indecent practices and unnatural acts." Donors and Western governments have said the law violates the rights of minorities.
Malawi's Justice Minister, Ephraim Chiume, last week called for a review of the law. Kamanga told VOA the government is referring the law and other provisions, especially those that have attracted adverse public comments, to the Law Commission for recommendation.
"I wouldn't say backing away is the right word. There are a number of other laws that have also received public comments, and what the government is doing is, we are taking the opportunity to look at all those laws, and we are referring those laws and provisions to the Malawi Law Commission. We are hoping that, as a way forward, we can have specific recommendations," he said.
Last year, a gay couple, Steven Monjeza and Tiwonge
Chimbalanga, was found guilty and sentenced to a maximum of 14 years in prison for getting engaged.
President Bingu wa Mutharika pardoned the couple on "humanitarian grounds only," after the case drew
international criticism. Some donor nations warned of an aid cutoff.
U.S. President Barack Obama last week ordered all U.S. agencies working abroad to ensure that diplomacy and foreign assistance promote and protect the rights of gays, lesbians, bisexuals and transgendered persons.
Kamanga said the decision to review the anti-homosexual law and other provisions was not an indication that Malawi was caving to international criticism. He said the timing was coincidental.
"No, I wouldn't say that we are caving to international pressure. The debate in Malawi has been ongoing. It's just coincidental, I think, that it's come around at the same time," Kamanga said.
He said Mutharika has set up a contact group to look at some of the issues, including what he has called a "bad law" by authorities.
Subscribe to our Youtube Channel: