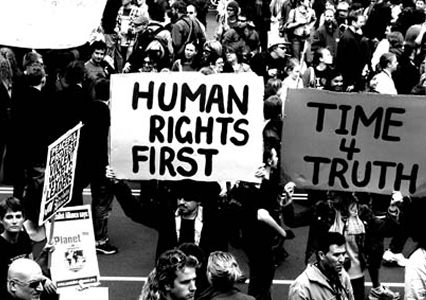 Depending on your perspective, Rev. Macdonald Sembereka is either a valiant hero or an impenitent villain.
To some, he is a human rights defender – an unwavering activist who speaks candidly about civil and political issues in the country. To others, he is a loudmouth dissenter of President Bingu Mutharika. The latter view of Sembereka has put him and his family at risk.
In the wake of the Malawi's July protests, which left 18 dead and 98 seriously injured, Sembereka's house in Balaka was petrol bombed by arsonists who opposed his role as spokesperson for the demonstrations which demanded mass economic reforms. It also came just days after the offices for the Institute of Policy Interaction, a non-profit organization with the aims of increasing citizen participation in political processes, were burned to the ground.
"There were some people looking for my property, and they came to the house under false pretenses to ask if it was really mine." Says Sembereka "It was in the middle of the night when the boys felt the heat and realized the entire house had caught on fire. Everything in it was destroyed."
Arson attacks, menacing phone calls, and intimidating written warnings are just some of the realities for Malawian human rights activists. But for Sembereka, intimidation is simply a scare tactic that will not work.  He says that "death threats are part of the job."
Malawi is among the world's poorest countries, and the present circumstances indicate a further decline. There is no fuel, no forex, no formal economy and no end in sight until the 2014 elections. Close to 80 per cent of the population survives on less than a dollar a day, and with the International Monetary Fund calling for a further devaluation of the Malawian kwacha, the cost of living is set to get a whole lot more expensive. Evidently the current government has failed in particular areas, but the main issue for human rights activists is the culture of silence perpetrated by those in power.
"Our leadership does not like to listen to the concerns of its people," says Luke Tembo, a director for the Malawi Human Rights Commission, "When a government has its own policies and agendas, it's impossible to have a debate about human rights concerns. We want to compromise, but the current circumstances illustrate that they're only willing to listen to those who side with their opinions, while those who don't receive death threats."
Tembo adds that reporting death threats to the police is riddled with irony. On the one hand, the police are responsible for the arrest and arbitrary detainment of free speech protesters, but on the other, they're the only ones to turn to for justice.  Usually, when cases are reported they become "screen saver" investigations with a facade of enforcement, but with no concrete conclusions.
For Malawi's human rights defenders, it seems there is much to lose, and nothing to gain. Which prompts the question: What inspires them to continue?
"It's not about me. It's about the greater good. " Says Sembereka, "I draw my inspiration from those Malawians who cannot speak up, and I am willing to fight – no matter the cost. Some of us have seen dictatorship before and we wouldn't ever want to go back."
Subscribe to our Youtube Channel: