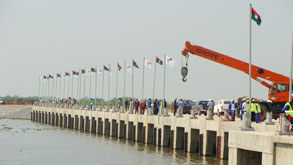 Portuguese group Mota-Engil has been awarded the contract to build a stretch of railway 145 kilometres long in southern Malawi for Brazilian group Vale under the terms of a US$703 million contract, the group said in a statement field with Portuguese stock market regulator CMVM.
According to the statement, the Portuguese group said it would build the railway line in 27 months.
Vale-Mozambique is building the US$2 billion railway line from Moatize, in the western province of Tete, to the northern Mozambican port of Nacala going through southern Malawi to transport coal and other products mined by Vale at its concession in Moatize and the shortest way of reaching Nacala is through Malawi.
Mota-Engil is already involved in several construction works in Malawi including the construction of the delayed M1 Lilongwe-Nsipe Road, the Nsanje port and it also built president Bingu wa Mutharika's mansion in Thyolo as a gift.
Mota-Engil also said that, following its efforts to increase its activities in emerging markets its portfolio of orders in Africa had grown to a total of US$1.2 billion including the project for the Brazilian mining group Vale.
Subscribe to our Youtube Channel: