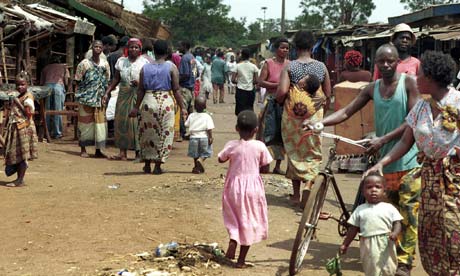 Regular small cash payments to girls and young women can enable them to resist the attentions of older men and avoid HIV infection, according to a new study.
Girls and young women are at the greatest risk of HIV infection in endemic countries. In sub-Saharan Africa, between a quarter and a third have the virus by the time they reach their early 20s.
But educating girls about risks and promoting condom use has had little impact in countries where they are struggling with poor education, low status and poverty, and where older men with money offer one of the few ways out of financial difficulties.
A team of researchers from the World Bank, University of California at San Diego and George Washington University in the US carried out a randomised controlled trial in Malawi to find out whether monthly payments to schoolgirls and their families would help change the girls' behaviour and safeguard their health.
They recruited nearly 1,300 young women, aged from 13 to 22, who were enrolled in school in the Zomba district of southern Malawi – an area of poverty, low school enrolment and high HIV prevalence.
The young women were randomly assigned, according to where they lived, either to receive between $1 and £5 a month, with their families given between $4 and $10 a month, or to get nothing. At the end of 18 months, the girls were tested for HIV and herpes infection.
The study, published online by the Lancet, found that girls who had received money were less than half as likely to have HIV as those who had not been paid – 1.25% (seven out of 490 women) compared with 3% in the control group (17 out of 796).
While the numbers who contracted HIV were relatively small, the researchers believe it shows a significant trend and would make a substantial difference across the population. There was a reduction of three-quarters in the risk of herpes, another sexually-transmitted infection.
Half of those who were given money got it only if they attended school, but there was no difference in the infection rate between those and the others who were paid regardless. Nor did the amount they and their families received make a difference.
Girls in the groups receiving payments were more likely to be in school than the others. Condom use did not go up, but the girls were less likely to be having sex frequently and less likely to have a partner over the age of 25.
"The findings suggest that financially empowering school-age girls and their families can have substantial effects on their sexual and reproductive health," write the authors.
In a commentary also published by the journal, Dr Nancy Padian, from the School of Public Health, University of California, Berkeley, and colleagues, say the findings "add to the increasing evidence suggesting that economic development and anti-poverty programmes can alter the context of sexual decision-making and, thus, HIV infection risk".
At a cost per case of HIV averted of $5000-$12,500 (£3,167-£7,918), paying individuals to stay healthy might seem expensive, they say, but it is still probably cost-effective and cheaper than putting people on antiretroviral drugs, which has been shown to reduce the risk of HIV infection.
Subscribe to our Youtube Channel: