A prominent critic of Malawi's president has been jailed in what activists say is the latest sign that the country is turning into a police state.
Ralph Kasambara, a human rights lawyer and former attorney general, has spent three nights behind bars after a fracas at his law practice in Blantyre.
Kasambara claims that five or six "thugs" were hired by the Malawian government to attack him and petrol bomb his office on Monday.
But following a tipoff, a group of his supporters intervened and overwhelmed the men by force, holding three of them.
When the police arrived, however, they arrested Kasambara and five of his supporters, accusing them of kidnapping and torture.
Kasambara believes the case is politically motivated. He has been outspoken in his criticism of Malawi's president, Bingu wa Mutharika, and last Saturday gave a newspaper interview under the headline: "Bingu must resign."
He told the Weekend Nation: "Malawians must understand that the person they employed as the president of their country … has defiled the conditions of service."
Kasambara added: "The president has disobeyed the national assembly and the judiciary. He wants to be a dictator.
"People must stop recognising him as president and his administration. These can be done by refusing to pay tax, shunning all government functions as it will be an illegal government, and any meetings called by any minister and president, and – where possible – they must engage in simultaneous public demonstrations to express their anger and frustration."
On Tuesday, a magistrate ordered Kasambara's release on bail. He was released on Wednesday and greeted by hundreds of his supporters, colleagues and journalists outside a Blantyre jail.
But hours later, police arrested him again at his home, saying his bail procedure was flawed. Supporters again gathered at the prison, and police wielded batons to disperse them.
Wapona Kita, a colleague of Kasambara, is representing him in the proceedings.
Kita said: "He thinks it's because of certain statements he's made against the government. It demonstrates the threat to freedom of speech in Malawi. His life could be in danger because we don't know how this issue will be concluded."
Kita added: "Since 2009 we have been going backwards on the rule of law in Malawi with arbitrary arrests and detentions and human rights violations. The president has become more autocratic and thinks he has absolute power."
Malawi has seen a total breakdown of trust between Mutharika, a former World Bank technocrat who was once a darling of the west, and civil society groups and the media. The impoverished African country was rocked by demonstrations last July in which at least 18 people died when police opened fire.
A coalition of churches, civil society and rights groups condemned the arrest of Kasambara. It issued a statement "noting the deliberate ploy by the government to arrest human rights defenders on flimsy and politically motivated charges with the view to instil fear among Malawians".
The group said it was "astonished by revelations that government has hired private security staff from Zimbabwe to effect these attacks against human rights defenders and individuals critical of government and the DPP [Mutharika's Democratic Progressive party]".
It was also "perturbed by the pace at which current regime is rapid in evolving into a police state".
Kasambara is not be the only activist to allege strong-arm tactics by the state. Dorothy Ngoma, director of the National Organisation of Nurses and Midwives of Malawi, said she went into hiding last year after being followed at night and receiving anonymous death threats.
"I got a call saying: 'Get out, don't stay in your house today'," she recalled. "I ignored it and within three or four minutes I got another: 'Are you still there? You are not safe. Get out!'
"I don't scare easily and I said: 'Can you explain?' He replied: 'They are chasing you. If you stay in your house tonight, they may hurt you.' So I packed up a few things and left. At that time many people were being threatened."
An investigation is under way into the mysterious death last year of student and political activist Robert Chasowa, initially declared by police to be suicide.
In an  Mutharika denied accusations of authoritarianism, insisting: "From 2004 until now, there is no single political prisoner in a Malawian jail."
On Thursday his spokesman, Hetherwick Ntaba, said others have heavily criticised the president but not been arrested.
"Why only Kasambara? Also how can a victim of an attempted arson attack be arrested? Does that not show that there is something missing in the equation?
Concern that President Bingu wa Mutharika is intolerant of criticism and violating human rights has led to protests and strained relations between Malawi, among the world's poorest countries, and its foreign donors. At least 19 people were killed by police when anti-government demonstrations last year degenerated into looting.
In the Kasambara case, court clerks who have been striking for higher pay for weeks suspended their strike to allow a bail hearing because lawyers have supported the clerks. On Tuesday, a magistrate ordered Kasambara released. Prison authorities balked at first, saying the order came too late in the day Tuesday. Kasambara was released Wednesday and greeted by hundreds of his supporters, colleagues and journalists outside a Blantyre jail.
Hours later, police arrested him again at his home, saying his bail procedure was flawed. Supporters again gathered at the jail, and police wielded batons to disperse them.
Kasambara's arrest came days after weekly newspapers quoted him criticizing Mutharika.
"Malawians have options. They should ask the president to resign or they should impeach him. He wants to be a dictator," Kasambara was quoted as telling The Weekend Nation.
Mutharika, a former World Bank official, was once heralded by economic analysts and was overwhelmingly re-elected in 2009 by voters who embraced his anti-corruption, anti-poverty pledges. But the country's economy has struggled in the last year, and questions about Mutharika's commitment to democracy and human rights became an issue.
Mutharika expelled a British diplomat who had described his as "becoming ever more autocratic and intolerant of criticism." Former ruler Britain subsequently indefinitely suspended aid to Malawi, which later withdrew its expulsion order.
The European Union, Germany, Norway and the U.S. have also halted or suspended assistance to Malawi, raising governance questions.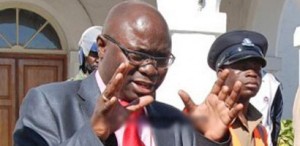 "The police are investigating. They have a reason for the arrest. Please withhold judgment until the police process finishes."
(Visited 58 times, 1 visits today)